Ina Goncarova '07 Wins Centennial Logo Design Contest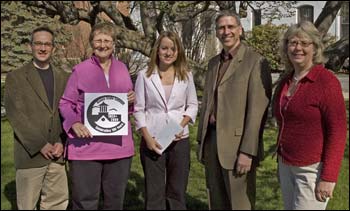 Keene, N.H. 5/16/07 - Last year students in Marsha Hewitt's Intermediate Graphic Design and Robert Kostick's Graphic Design Portfolio classes were invited to create designs for a Centennial celebration logo that will be used extensively from July 2008 through December 2009.
Thirty-seven students each submitted three concepts that were judged on appropriateness of style, understanding of the theme, and creative approach. The winner, Ina Goncarova '07, was presented with a $500 check for her winning design on May 4.
Related Stories