Ross Wins People's Choice Art Award at KSC Student Exhibition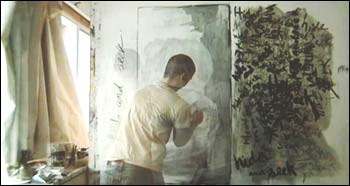 KEENE, N.H. 4/27/07 - Keene State College senior art major Juliet Ross was voted the winner of the People's Choice Award for a video about living with Attention Deficit Hyperactivity Disorder displayed in "Emerging Art," the annual KSC art students' exhibition at the Thorne-Sagendorph Art Gallery on campus.
During the first weeks of the exhibit, visitors were invited to vote for their favorite work of art. Out of 306 votes cast, Ross accumulated the most votes. She will receive a $100 cash award from the Friends of the Thorne along with a People's Choice Commendation.
"I decided to do a video piece to set the tone for everything else in my exhibit," explains Ross, who shot the video of herself using a tripod. The video entitled "Hide and Seek" shows Ross painting over a self portrait. Because the video moves quickly in forward and reverse the painting seems to be disappearing and reappearing throughout the five-minute film. Her other paintings and her installation with a live fish swimming in small fish bowl explain her frustrations about living with ADHA. "My artwork is one of the few things which can slow me down," she explains.
Ross, who has lived in Keene for the past three years, will return to Pomfret or Storrs, Conn., to reside with one of her parents after graduating from Keene State in May with a bachelor of fine arts degree in studio art. She intends to return to Keene to exhibit her work this summer and fall at several Main Street shops including Brewbakers, the Wine Cellar, and Prime Roast. This past year, she has had several exhibits in Keene and Brattleboro, Vt., where she has sold five painting.
Ross's winning artwork is among 173 works exhibited by senior art majors and other students taking art courses at Keene State. This year's exhibit includes the work of the fifth group of seniors to graduate from the Bachelor of Fine Arts program at KSC.
"Emerging Art" will be on display through Sunday, May 6. Gallery hours are noon to 4 p.m. Saturday through Wednesday, and noon to 7 p.m. Thursday and Friday. For Commencement Weekend, the gallery will be open from noon to 5 p.m. on Saturday, May 5, and Sunday, May 6.
The gallery will be closed May 7-31 and will reopen Friday, June 1, for "Illusionary Space and Other New Encounter," an exhibit on contemporary art from the 1960s to the 1990s that plays with and examines space and spatial relationships with artwork culled from the Thorne Gallery and Keene State College collections. This exhibit premières works by Tony DeBlasi, Jack Lembeck, and Theodoros Stamos, all gifts to the college from the Louis K. Meisel Gallery in New York City, and a sculpture by Blanche Dombeck donated by Cheshire Medical Center/Dartmouth-Hitchcock Keene. Other artworks from the gallery and college collections also will be displayed from June 1 through July 29. During the summer the gallery is open from noon to 4 p.m. Wednesday to Sunday. The gallery is closed Wednesday, July 4, for Independence Day.
Both exhibits are free and open to the public. Located on Wyman Way on the Keene State campus, the Gallery is accessible to people with disabilities. To request accommodations for a disability, please call the Thorne Gallery at least two weeks before your visit. For information, call 603-358-2720 or visit www.keene.edu/tsag.
Related Stories