KSC Student Work Showcased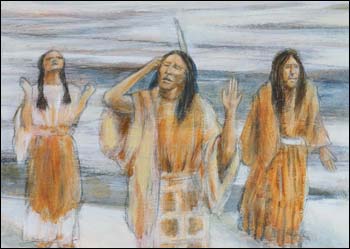 KEENE, N.H., 3/29/07 - The Keene State College Department of Art showcases students' work in Emerging Art, from April 14-May 6, 2007, at the Thorne- Sagendorph Art Gallery.
On exhibit are pastels, silver point drawings, caustic paintings, ceramics, paintings, photographs, drawings, sculpture, and prints done by Bachelor of Fine Arts candidates, seniors, and students majoring in art and graphic design.
Six Bachelor of Fine Arts students graduating in May: Erin Bonneau, Dover, New Hampshire; Alyson Bowman, Peterborough, New Hampshire; Molly Fletcher, Webster, New Hampshire; Kate Cote, Keene, New Hampshire; Marlene O'Connor, Brattleboro, Vermont, and Juliet Ross, Storrs, Connecticut, have their work featured in one gallery.
"This year's show features works from the largest graduating class in the BFA program since it began six years ago," said Peter Roos, associate professor of Art.
"Their work displays a variety of styles, ideas, and expression to challenge, excite, and amuse viewers. Pieces range in scale from small, delicate wood engraving to bigger-than-life-size figurative sculpture. There is traditional realistic painting and conceptual video pieces. The work exhibited displays the highest quality."
In addition to work by students earning their Bachelor of Fine Arts degrees, senior students expecting to receive their Bachelor of Arts degrees in May have their artwork displayed in a second gallery, along with the artwork of other students.
The seven Bachelor of Arts seniors are: Kathryn M. Earl, Center Harbor, New Hampshire; Elizabeth L. Gallugi, South Windsor, Connecticut; Amylia J. Jackson, Winchester, New Hampshire; Emily Schiavoni, Sag Harbor, New York; Kathleen E. Scripture, Surry, New Hampshire; Beth A. Tardie, Brookfield, Vermont; and Steven D. Wilber, Keene, New Hampshire. Art department faculty selected pieces from work students completed during the academic year.
Visitors are invited to vote for their favorite Emerging Art piece. The artist whose work is chosen receives a People's Choice Commendation and a $100 cash prize, sponsored by the Friends of the Thorne. Voting ends April 26, with the winner announced on April 27. The public is invited to Emerging Art's April 13 opening reception from 5:30 to 7:30 p.m. hosted by Friends of the Thorne. The exhibition and reception are both free.
Gallery hours are Saturday through Wednesday, from noon to 4 p.m., and Thursday and Friday, from noon to 7 p.m. On Saturday, May 5, and Sunday, May 6, during KSC Commencement weekend, the gallery is open from noon to 5 p.m.
The gallery is accessible to people with disabilities. To request accommodations for a disability, call the gallery (603-358-2720) at least two weeks before visiting.
Related Stories