KSC Graduate Wins Award for Painting of New Hampshire Landmark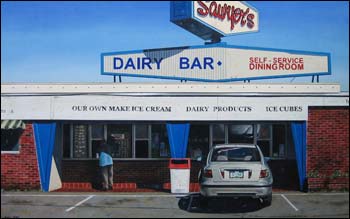 KEENE, N.H., 02/21/07 - Shawn Huckins, a Keene State College graduate, received the People's Choice Award for his acrylic on canvas, Sawyer's Dairy Bar, in the 2007 Biennial Regional Jurors' Choice Competition at the Thorne- Sagendorph Art Gallery.
Huckins won the award based on votes cast by visitors to the regional exhibition, which continues through Friday, March 2. A total of 326 votes were cast. Huckins receives a $100 cash award sponsored by the Friends of the Thorne along with a People's Choice Commendation.
Text plays an important part in Huckins's paintings, reflecting his interest in the interplay of words, fonts, and messages, and how they work together. They also contain timeworn storefronts and buildings.
Huckins said the dairy bar's sign caught his attention as he drove past the landmark in Gilford, New Hampshire, on his way to go hiking.
"Text - the individual shape of letters, how they look when they're put together to form words - interests me. With the dairy bar, the unusual shape of the sign and the shape of the letters on it caught my attention, as did the time-honored look of the building itself. The building looked timeworn, comfortable in its setting.
"With the exception of the sign and the car parked in front, everything in the painting is flat. This was intentional, to draw the viewer's attention to the sign, to make it 'pop' for the viewer." Huckins said he likes painting subjects that might not necessarily be taken or seen as art, capturing them in a way that makes viewers say to themselves, "Wow! That looks so real!"
Sawyer's Dairy Bar is one of 95 pieces of art selected for the regional exhibition by jurors Gerry Bergstein, faculty member of The School of the Museum of Fine Arts, Boston, Massachusetts; Katherine French, director of the Danforth Museum of Art, Framingham, Massachusetts; and Mary Minifie, a painter from Groton, Massachusetts. The Jurors' Choice Competition showcases work by artists living within 30 miles of Keene, New Hampshire. This year's competition, celebrating 11 years of presenting juried exhibitions at the Thorne gallery on the Keene State College campus, saw 139 artists submitting 257 pieces of artwork.
Huckins received a bachelor's degree in studio art from Keene State College in 2006 and was residing in Keene when he submitted to the show. While Huckins does some work in charcoal, his primary media is acrylic on canvas. Currently living in Middletown, Connecticut, he works for an architectural firm in New Haven.
The Thorne-Sagendorph Art Gallery is open Saturday through Wednesday, from noon to 4 p.m., and Thursday and Friday, from noon to 7 p.m. The exhibit is free and open to the public. For more information, call 603-358-2720.
Related Stories