Owls Hit the Road for LEC Semifinal Basketball Games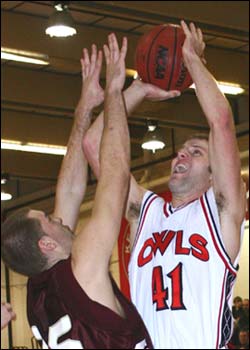 KEENE, N.H. 2/21/07 - Keene State College men's and women's basketball teams will hit the road on Friday for Little East Conference tournament semifinal games.
The second seeded KSC men (22-4) travel to Rhode Island College in Providence where they will face sixth seed UMass-Boston (10-16) at 6 p.m. The KSC-UMB game will be video webcasted.
Top seed RIC (22-3) will go up against fourth seed UMass-Dartmouth (14-12) in the other semifinal game (8 p.m.). The two winners will hook up in Saturday's championship game (3 p.m.). KSC has reached the finals five times (1998, 2001, 2002, 2004, and 2006), claiming its lone title in 2004.
The LEC women's tournament will once again take place at Southern Maine in Gorham. The second seeded Owls (20-5) will play sixth seed Western Conn. (15-11) in the first game at 5:30 p.m. Top seed and defending champ Southern Maine (23-2) will tip off against fifth seed Eastern Conn. at 7:30 p.m. The championship game is scheduled for Saturday (3 p.m.). USM has captured 17 LEC titles.
After the smoke cleared from Tuesday's first-round action, Keene State was the only school to have both its men's and women's team survive to play another day.
Thanks to the defensive play of Shiwon Davis, the late game shooting of David Sontag, not to mention a crowd-pleasing one-hand slam by Trevon Little, the KSC men were able to dispatch rival Plymouth State 98-86 in its opening-round game on Tuesday.
Courtesy of Tony Barros, who scored 48 points and buried seven long-range three-pointers, UMB came away with an 88-82 quarterfinal upset win at Western Conn.
Not your typical sixth seed, UMass-Boston has caused nightmares for the Owls the past few seasons. Don't let their record fool you. The Beacons, who defeated KSC 81-67 in last year's championship, are at their best in big games.
"You have two very talented teams going after each other," said KSC Coach Rob Colbert. "Guys like Barros and Amigo Paniagua can play, so we have to find the appropriate match-up to throw at them. We need to be the aggressor and make them try to stop us."
The two teams split regular season games this season, winning on each other's court. The Owls posted a 67-61 win in Boston and the Beacons prevailed 90-86 in Keene.
"There are many hurdles on the way to the title," Colbert said. "UMass-Boston now stands in our way. Hopefully, we'll find a way to deal with it."
Sarah Begnoche made sure the Owl women would advance to Friday's semifinal. The Owls senior forward had 27 points, and pulled down a career high 17 rebounds in Keene State's 72-56 first-round win over Plymouth State.
Stacey Roberts did the same for Western Conn. The sophomore forward posted a double-double of 22 points and 10 rebounds in the Colonials' 87-52 upset win over UMass-Boston on Tuesday. The victory marks just the second time in LEC tournament history that a number six seed has defeated the number three seed. Keene State College defeated Eastern Connecticut State University, 54-51, in 1999.
Keene State Coach Keith Boucher called Western Conn. a very dangerous team. "They might be the deepest and overall the most talented team in our conference," he said. "They're young like we are, but have given Southern Maine all they can handle with a pair of three-point losses. That's an indication how good they are, so we have our work cut out for us."
Keene State swept its regular season games against the Colonials, winning 60-57 in Keene and 72-57 in Danbury.
"There are no easy outs now," said Boucher. "If you don't play at both ends of the floor for 40 minutes, you're going home."
Related Stories