Greek Trilogy Unites New Hampshire Higher Education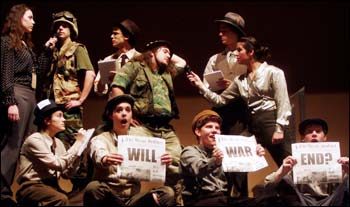 KEENE, N.H., 2/5/07 - In a first-time sharing of creativity and expertise, the Departments of Theatre and Dance at Keene State College and the University of New Hampshire and the Department of Theatre, Dance, and Music at Plymouth State University will collaborate to produce three Greek tragedies, which will tour all three campuses.
Keene State will perform Agamemnon on Wednesday, February 28, at 7:30 p.m.; Friday, March 2, at 7:30 p.m.; and Sunday, March 4, at 2 p.m. Plymouth State University will perform The Trojan Women at Keene State on Thursday, March 1, at 7:30 p.m. The University of New Hampshire will perform Electra on Saturday, March 3, at 7:30 p.m.
All three plays will be in the Main Theatre of the Redfern Arts Center on Brickyard Pond at the Keene State College campus. Tickets for each performance are $7 for the general public and $5 for KSC students, senior citizens, and youth age 17 or younger. Call the box office at 603-358-2168.
In addition, English Professor Anne-Marie Mallon will be leading an audience discussion about Agamemnon after the performance on Friday, March 2.
Euripides' The Trojan Women follows the women's fates after Troy has been attacked, their husbands killed, and their remaining families taken away as slaves. One of these slaves is Princess Cassandra, who is slated to become the conquering General Agamemnon's concubine.
Aeschylus's Agamemnon picks up the story with the homecoming of Agamemnon and his concubine, Cassandra. Clytemnestra, Agamemnon's wife, awaits her husband with thoughts of vengeance for the death of their daughter, Iphigenia, whom Agamemnon sacrificed to gain favorable winds for the Greek fleet.
Sophocles' Electra concludes the trilogy with the story of Electra, the daughter of Agamemnon and Clytemnestra. Clytemnestra and her lover kill Agamemnon and now rule his lands. Electra yearns for her brother's return and the day her father's murder is avenged.
All three productions will have the basic set and lighting design done by Keene State's Céline Perron. "We're united by the project and by performing Greek plays, but we're also united by Céline's set," Ron Spangler, Agamemnon director and Keene State theatre professor, pointed out. "There was some initial trepidation about this, but we all shared our ideas, and she came up with great solutions that pleased us all."
Each production has its own interpretation of the concept, performance, and costumes appropriate to each play. "These are three wildly different productions," Spangler said. Agamemnon's time setting is the 20th century, but has no particular time period. The chorus, originally written as a group of elders, is instead the media in Spangler's production; they are the ones who report on the war and fill in any narrative gaps to the audience, occasionally using a camera to interview a character, which will be projected live on a screen above the actors.
Spangler hopes that this first-ever collaboration between the Theatre and Dance Departments of the three University System of New Hampshire schools is the first of many. "Seeing the students, faculty, and staff from all three schools working together for the past two to three years to develop this representation of the three big Greek playwrights has been just incredible," he said.
Agamemnon has a large cast, including KSC Upward Bound employee Matthew Ragan of Lompoc, California as Agamemnon. Students playing major roles are Emily Rose Friedrich of Loudon as Clytemnestra; Michael David Ierardi of Nashua as the Watchman; Joshua B. Midgett of Sagamore Beach, Massachusetts, as Aegisthus; Liz Panneton of Keene as Cassandra; and Taylor Quimby of Keene as the Herald.
The Media Chorus members - who have a very large collective role within the production - are Jessica Berman of Unionville, Connecticut; Kade Hill of Turner, Maine; Chris Kelly of Bethel, Connecticut; Jordan Mitchell-Love of Saxtons River, Vermont; Phil Officer of Hanover; Jaime Pearsons of Suffield, Connecticut; Shanna Sartori of Wolfeboro; Ethan Selby of Peterborough; and Renée Staudinger of South Royalton, Vermont. Laura Czechowicz of New Hartford, Connecticut, is the stage manager and Jen Suitter of Bristol, Rhode Island, is the assistant stage manager.
Related Stories