Mayor, President Giles-Gee Perform in KSC Centennial Prelude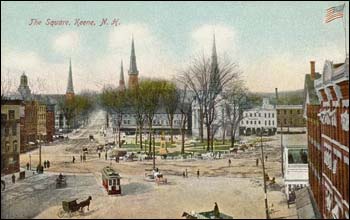 KEENE, NH 1/25/07 - Distinguished guests and members of the Keene community will perform In Perfect Harmony, a one-act play celebrating Keene's vote to embrace higher education, on Friday, February 9, at 7 p.m. in the Mabel Brown Room of Keene State College's Student Center.
The reenactment was inspired by a meeting in Keene City Hall on February 9, 1907, when Keene citizens voted unanimously to found a "normal school" to train professional teachers. Keene, competing with other New Hampshire locations, prevailed in its campaign to be the home of the new institution.
The city's pledge of support was critical to the institution's success and has proved to be the cornerstone of a harmonious relationship ever since. Keene Normal School opened on September 28, 1909, with an enrollment of 27 students and a commitment to excellence in education. It became Keene Teachers College in 1939 and Keene State College in 1963, when it affiliated with the University System of New Hampshire.
This performance is free and open to the public and is the first of many activities planned to celebrate Keene State College's centennial. Actors and participants include USNH Board of Trustees Chair Andrew Lietz, USNH Chancellor Stephen Reno, KSC President Helen Giles-Gee, the Honorable Mayor Michael E. J. Blastos, City Manager John MacLean, KSC soloist and musicians, and many others from the Keene community.
For information or to request accommodations for a disability, please call Amy Proctor at 358-2372 or e-mail her at amyhaver@keene.edu.
Related Stories