Artists Win Awards in Thorne's Regional Show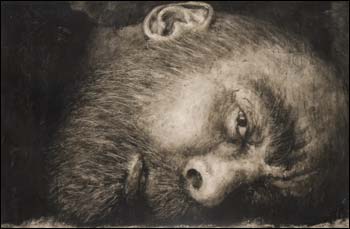 KEENE, N.H., 01/09/07 - Artists from Vermont, Massachusetts, and New Hampshire won the top three awards in the 2007 Biennial Regional Jurors' Choice Competition at the Thorne-Sagendorph Art Gallery. This year's show marks 11 years of juried exhibitions at the Thorne gallery, which is part of Keene State College.
Leonard Ragouzeos of Newfane, Vermont, won the Jurors' Best of Show Award of $500 for "The Fall," a work in India ink on synthetic paper. Abigail Rorer of Petersham, Massachusetts, won the second place award of $300 for "Skunk Cabbage," a relief engraving. Elsa Voelcker of Antrim, New Hampshire, won the third place award of $200 for "Michelle," a photograph. The Best of Show Award is sponsored by Friends of the Thorne.
Gerry Bergstein, faculty member of The School of the Museum of Fine Arts, Boston, Massachusetts; Katherine French, director of the Danforth Museum of Art, Framingham, Massachusetts; and Mary Minifie, a painter from Groton, Massachusetts, were jurors.
In discussing "The Fall," Bergstein said it is "An image that is technically well-executed, intensely expressive, and subtly nuanced - a rare feat." French commented: "This dark and emotional portrait is a powerful statement by an artist who is working representatively from the imagination."
"'Skunk Cabbage' is a piece in which precise technique and nuanced touch synthesize to create a work of remarkable delicacy, which make this very small work beautiful and monumental," said Bergstein.
"This is an eloquent argument for the strength and power that can be found in a small, but emotive image," said French of Rorer's engraving.
In describing "Michelle," the third place winner, French said, "This touching portrait goes beyond surface concerns to portray the sense of a person behind a contemporary mask."
The Jurors' Choice Competition showcases work by artists living within 30 miles of Keene, New Hampshire. This year, 139 artists submitted 257 pieces of artwork. Bergstein, French, and Minifie selected 95 pieces for the show.
In addition to the three winners, the jurors also selected five artists for honorable mention, which include William H. Hays of Brattleboro, Vermont, for his oil painting "Deep Woods Night"; T. I. Mahurin of Brattleboro, Vermont for "Untitled 3," done in graphite; Patricia Elliot Schappler of Bedford, New Hampshire, for her acrylic and collage work "Titan"; Katharina Rooney of Keene, New Hampshire, for her work in clay called "Modern Baroque Vase"; and Scott Niemi of Fitzwilliam, New Hampshire, for his mixed media "Ladder." An honorable mention contains a cash award.
An awards ceremony is slated for 6 p.m., January 19, 2007, during the 5:30 to 7:30 p.m. opening reception hosted by Friends of the Thorne. Visitors to the show can vote for a People's Choice Commendation. The artist winning the $100 prize will be announced February 20.
The Thorne-Sagendorph Art Gallery is located on the Keene State campus on Wyman Way, off Main Street in Keene. Gallery hours are from noon to 4 p.m., Saturday to Wednesday, and noon to 7 p.m., Thursday and Friday.
The Biennial Regional Jurors' Choice Competition is free and open to the public. The Thorne is accessible to people with disabilities. Call the gallery at least two weeks prior to visiting to request accommodations for a disability. For more information, call 603-358-2720 or visit www.keene.edu/tsag.
Related Stories