Artists Talk about the Impact of Psychic and Physical Health on Creative Expression at Thorne-Sagendorph Reception September 8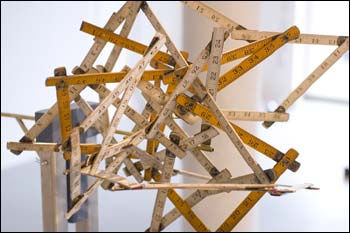 KEENE, NH 8/30/06 - A public reception for "Art = Body + Mind: How Psychic and Physical Health Inform Artistic Expression" will be held on Friday, September 8, from 6 to 7:30 p.m. The artists who created "The Tipping Point," one exhibit on display, will give a gallery talk and answer questions.
The show juxtaposes five separate exhibits, each by artists exploring how an event, series of events, or a medical condition can challenge and transform one's life and beliefs.
"Tipping Point: Health Narratives from the South End" comes to the Thorne from the Boston Center for the Arts. Artist Jennifer Hall and Ellen Ginsburg, Ph. D., medical anthropologist and ethnographer, created the interactive show with artist Blyth Hazen, robotic systems lead, and artist Arnaldo Hernandez, software programmer.
They have combined the visual arts, science, and software programming to create an installation of large, kinetic, and interactive sculptures, each based on a health narrative gathered from artists living or working around the South End of Boston.
Artist Anne Harris's "How to Draw Yourself Out of a Hole" is a series of self- portraits lent by the Nielsen Gallery in Boston. The artist explores the definition of portraiture, demonstrating that no person is ever static. The drawings, each very different, illustrate the artist's perception of self, and viewers can see the changes in each successive sketch.
A series of prints by Keene State art faculty member Rosemarie Bernardi contrast physical scarring with the elegance of a friend who is a breast cancer survivor.
Three video shorts are part of the exhibition. Joe MacDonald and the National Film Board of Canada produced "First Stories: Patrick Ross," which documents the creation of a painting as a young man discusses his spiritual and artistic journey from prison inmate to artist. Two student videos will also be shown. "Into Iraq" by Keene State College 2006 graduate Joshua Tuscher depicts his personal experience of war in Iraq and how it changed his life's goals, and Jim Varagona's "Diseased Sensations" unflinchingly portrays the student filmmaker's everyday life with Type 1 diabetes.
KSC art students from a three-dimensional-design class are exhibiting their own contributions to the fields of art and health: they designed new organs for the human body to solve particular health problems and improve lives.
The exhibition will be at the Thorne-Sagendorph Art Gallery at Keene State College from September 5 through October 15. The exhibit is free and open to the public. Groups may call the gallery to inquire about tours of the show. Call 603-358-2720 or visit www.keene.edu/tsag for information.
The Thorne-Sagendorph Art Gallery is located on the Keene State campus on Wyman Way off Main Street in Keene. The gallery is open from 12 to 4 p.m. Saturday through Wednesday, and 12 to 7 p.m. on Thursday and Friday. The gallery is accessible to people with disabilities. To request accommodations for a disability, please call the gallery at least two weeks before your visit.
Related Stories