Piano Music and Song Highlight KSC Faculty Recital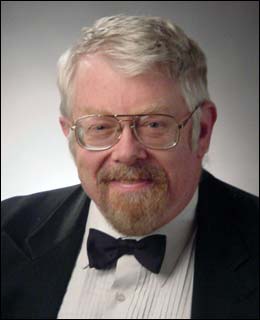 KEENE, N.H. 10/26/05 - A four-hand piano suite and arias from well-loved operas will highlight the Keene State College Faculty Artists' Recital on Wednesday, Nov. 9, at 7:30 p.m. in the Alumni Recital Hall of the Redfern Arts Center on Brickyard Pond at Keene State College. Tickets are $7 for the general public and $5 for KSC students, senior citizens, and youth age 17 or younger. Call the box office at 603-358-2168.
Pianists George Loring and Elizabeth Blood will perform Debussy's Petite Suite for Piano 4-Hands. Blood will accompany soprano Diane Cushing as she sings "Quando m'en vo soletta" from Puccini's opera La Boheme and "Je dis que rien ne m'epouvante" from Bizet's opera Carmen. Soprano Pamela Stevens will then perform "Habanera" and "Seguidilla" from Carmen accompanied by Blood.
Loring and Craig Sylvern, tenor saxophone, will perform "Owls Head" Sonatina by John C. Worley. Loring and Joy Flemming, bassoon, will play a sonata by Camille Saint-Saens. Perri Zimmerman, cello, will join Loring in a performance of Sicilienne for cello and piano by J. S. Bach.
Ted Mann will perform his own composition, the guitar solo Lux Aeterna. Mann is on the KSC music faculty and coaches the guitar ensembles. He has performed in venues across the country as a soloist and with a variety of groups including the Vivaldi Traveling Circus Orchestra of Manhattan and the Nashua Chamber Symphony. He is often commissioned to write music for a variety of media, and was selected as Composer of the Year 2003 by the New Hampshire Music Teachers Association.
George Loring, an artist-in-residence at Keene State, performs frequently throughout New England as a soloist, collaborative artist, and chamber musician. He has performed in Austria, the Czech Republic, Denmark, England, Finland, Hungary, Italy, Norway, Portugal, Spain, Sweden, and Hawaii, and on New Hampshire public radio and television.
Elizabeth Blood, a native of Manchester, N.H., returned to New England to begin teaching at KSC this fall. As a pianist and coach, she has worked with young artists at Opera in the Ozarks, Brevard Music Center, the Tanglewood Institute, and the Apple Hill Center for Chamber Music. Blood has served as a coach/accompanist for many musical theater productions and has accompanied numerous recitals by instrumentalists and singers.
Diane Cushing, who is music director of the upcoming Keene State production of the musical Urinetown, has been heard as soloist with the Master Works Chorale of Boston, Boston Baroque, the Hamilton Baroque Ensemble, the Cape Cod Chorale, the Bach Society, the Neponsett Choral Society, the Thayer Symphony Orchestra, the Assabet Valley Mastersingers, and the Monadnock Chorus and Orchestra.
Pamela Stevens, who teaches voice at KSC, has been a frequent soloist with many regional organizations including the Nashua Symphony Orchestra and Choral Society, Monadnock Chorus and Orchestra, the New Hampshire Symphony, the Keene State Oratorio Society, the Granite State Symphony and Concord Chorale, the Keene Chorale, the Harvard and Smith glee clubs, Symphony Pro Musica, the Masterworks Chorale, and the Boston-based Cantata Singers.
Craig Sylvern, an associate professor at Keene State, is chairperson of the Department of Music. As a professional saxophonist, he has performed with many symphony orchestras and big bands throughout the United States and has toured for many years with Keith Brion and his New Sousa Band. He can be heard on recordings with the New Sousa Band, the New Hudson Saxophone Quartet, and the Ohio State University Concert Band.
Located off Wyman Way, the Redfern Arts Center is accessible to people with disabilities. To request accommodations for a disability, please call the box office, 603-358-2168.
Related Stories