Exhibition of Fine Handmade Craft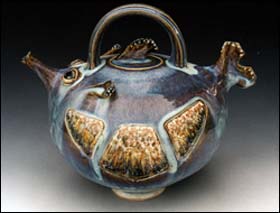 KEENE, NH 9/27/05 - The artistry and craftmaking skills of more than 65 juried and supporting members of the League of New Hampshire Craftsmen will be on display at the League's 24th Biennial Members' Juried Exhibition. The exhibition is being hosted by the Thorne-Sagendorph Art Gallery at Keene State College from Oct. 29 through Dec. 8. The exhibition features fine hand-crafts in basketry, clay, fiber, glass, jewelry, mixed-media, printmaking, and wood accents and furniture.
"This exhibition showcases excellence in craftmaking and represents all craft media within the League's membership," said League Executive Director Susie Lowe-Stockwell. "We are pleased to be exhibiting at Keene State College's Thorne-Sagendorph Art Gallery, which features the best of traditional and contemporary art. The handcrafted items in this exhibition also follow this theme."
The jurors for this exhibition are Maureen Ahern, Director, Thorne-Sagendorph Gallery, Keene State College; Sam Azzaro, Art Department Professor, Keene State College; and Ruth Burt, craftsperson in multiple media and past director of the Standards Committee of the League of NH Craftsmen.
There will be an opening reception and awards ceremony on Friday, Oct. 28, from 5:30-7:30 p.m., hosted by Friends of the Thorne. More than $2,500 in exhibition awards, including Best-in-Show and specific craft medium awards, will be presented at 6:30 p.m. Greg Worden, Director of Vermont Artisan Design in Brattleboro, VT, is the juror for the exhibition awards.
The Thorne-Sagendorph Art Gallery is located on the Keene State campus on Wyman Way off Main Street in Keene. The gallery is open from noon to 4 p.m. Saturday through Wednesday, and noon to 7 p.m. Thursday and Friday. It is closed Friday, Nov. 11, for Veterans Day and Wednesday to Sunday, Nov. 23-27, for the Thanksgiving break. Guided gallery tours are offered free on Sundays at 3 p.m. The exhibit, reception, and tours are free and open to the public. The gallery is accessible to people with disabilities. To request accommodations for a disability, please call the gallery at least two weeks before your visit. For information, call 603-358-2720 or for directions, visit www.keene.edu/tsag/directions.cfm for directions.
This exhibit is part of New Hampshire: The State of Art, a statewide celebration of the arts presented by the New Hampshire Visual Arts Coalition and the New Hampshire State Council on the Arts. From September through December, 27 museums and galleries throughout the state are collaborating in a series of exhibitions that reveal the richness and variety of the visual arts in New Hampshire. Exhibitions range from historic decorative artifacts to the latest in ceramics, paint, multimedia, quilts, and clothing. For more information about New Hampshire: The State of Art go to www.nhthestateofart.org. The sponsorship for New Hampshire: The State of Art is from Ocean National Bank, Public Service of New Hampshire, and U.S. Trust Company.
The Thorne Art Gallery is a cornerstone for the visual arts in New Hampshire's Monadnock Region. Since the Gallery's founding in 1965, one of its primary missions has been to collect and preserve art from the Dublin (NH) Art Colony as an educational and historical resource. The Gallery also has in its collection works by modern artists. In addition to exhibitions of national and international art, the Thorne shows local artists as well as Keene State faculty and student work.
The League of NH Craftsmen is a nonprofit, craft education organization. Its mission is to encourage, nurture, and promote the creation, use, and preservation of fine contemporary and traditional crafts through the inspiration and education of artists and the broader community. Lead sponsorship for the League of NH Craftsmen is provided by Charter Trust Company, with additional support from Markem Corporation and Ocean National Bank.
For more information about the Biennial Exhibition or the League of NH Craftsmen, call 603-224-3375 or visit www.nhcrafts.org.
Related Stories