Women's Caucus for Art Exhibit Reopens at Thorne Gallery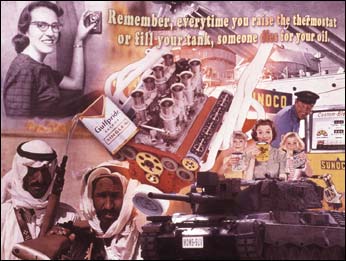 KEENE, N.H. 9/1/05 - Women's Caucus for Art members explore personal, political, or social issues of interest in the show "In Our Hearts and on Our Minds, " which reopens Sept. 6 to 23 at the Thorne-Sagendorph Art Gallery at Keene State College.
"In Our Hearts and on Our Minds" explores issues close to the heart or in the thoughts of artists who are members of the Women's Caucus for Art chapters in New Hampshire, Boston, and Central Massachusetts. The artwork is witty, poignant, and in a variety of media. This exhibit touches on political as well as religious and environmental subjects and ranges from a digital collage about America's obsession with oil to a sculpture fashioned from tree branches and roots.
From 42 artists submitting a total of 180 slides, the two jurors for the exhibit - Ruth Hansen, exhibitions coordinator of Women's Caucus for Art-New Hampshire, and Peter Roos, associate professor of art at Keene State - chose 29 works of art created by 22 artists, most from New Hampshire. Hansen said she was impressed with the quality and thoughtfulness of the entries.
This exhibit will be at the Thorne for only three more weeks so make plans to stop by the gallery soon to experience this unique exhibit. Admission to the exhibit is free and open to the public. The gallery is open from noon to 4 p.m. Saturday through Wednesday, and noon to 7 p.m. Thursday and Friday. The gallery is accessible to people with disabilities. To request accommodations for a disability, please call the gallery at least two weeks before your visit. For information, call 603-358-2720 or visit www.keene.edu/tsag
Related Stories