Mongolian Art Exhibit Opens Season at Thorne Gallery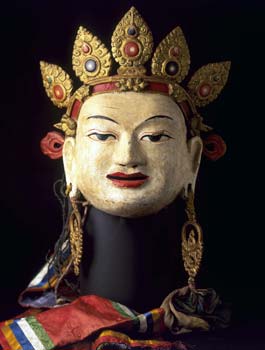 KEENE, N.H. 8/17/05 - The long and storied history of the Mongolian steppes from ancient times to the present will be explored in an art exhibit that opens the 2005-06 season at the Thorne-Sagendorph Art Gallery at Keene State College. "Mongolian Art: A Living Landscape" opens Saturday, Sept. 17 and continues through Sunday, Nov. 20 at the Thorne Gallery, one of three national venues for this exhibit, which tells the story of the nomadic Mongols of central Asia through art objects, artifacts, and images.
"Mongolian Art: A Living Landscape" not only presents rare art and artifacts but also provides information about Mongolian life, history, and religion from the Paleolithic Age to the modern era. The more than 100 objects in the exhibit include an 8-foot high 19th century folk painting depicting Mongolian deities, a 3,000-year-old bronze sculpture of a wild sheep, and a set of 18th century religious masks. Additionally large format photographs show a country of vast contrasts and provide a visual backdrop for the exhibit by placing both sacred and everyday objects in the larger context of the landscapes that influenced their creation.
"This exhibit provides a very special opportunity for the people of New Hampshire to learn about a previously closed culture which is unfamiliar to most Americans," says Maureen Ahern, director of the Thorne Art Gallery. "This kind of experience is especially important to New Hampshire residents because there is little opportunity for people to see and learn about other cultures without extensive travel."
Several programs will center around the "Mongolian Art: A Living Landscape" exhibit.
"What's Mongol in Mongol Culture" will be explained by Roland L. Higgins, professor of social sciences at Keene State, during an opening reception on Friday, Sept. 16, from 5:30 to 7:30 p.m. at the gallery. Following the lecture, Higgins will provide a brief walk through the exhibit. Higgins teaches East Asian history at Keene State, has traveled extensively in East Asia, and led study tours to China. He is a member of the Asian Studies Association and the Association for Ming Studies.
The reception will be hosted by the Friends of the Thorne, which will use the Mongolian art exhibit as the focus of their education program for K-12 students, which runs Oct. 1 to Nov. 20. Education program information will be sent to area schools. For further information or to schedule a school group, call 603-358-2720.
Mongol people and their art will be discussed by Pamela Crossley, professor of history at Dartmouth College, on Thursday, Nov. 10, at 7 p.m. at the Thorne Gallery. Crossley teaches courses on the history of China and East Asia and the Mongols. Her current projects include the history of coercive institutions in China; a comparative history of cross-cultural empires in Inner Asia; and a comparative history of horsemanship in medieval Eurasia. She co-edited the book Making Mongols: Empire, Frontier and Ethnicity in Early Modern China and has published several books and articles on China and the Manchu people.
Free guided gallery tours of the Mongolian art exhibit are offered by Keene State art student Adrienne LaBombard at 3 p.m. on Sundays. Reservations are not required.
This exhibit supports Keene State's Commission on Multiculturalism and Diversity and the KSC Fourth Biennial World Affairs Symposium, "Globalization: Impact on Peoples of the World," which runs Thursday to Saturday, Nov. 3-5.
The exhibit is supported in part by donations or grants from the New Hampshire State Council on the Arts and the National Endowment for the Arts, the KSC Alumni Association, the Pepsi-KSC Partnership, the KEA Endowment Fund, and the Friends of the Thorne. "Mongolian Art: A Living Landscape" is organized and circulated by Curatorial Assistance Traveling Exhibitions (CATE), Pasadena, Calif.
The exhibit, reception, lectures, tours, and educational program are free and open to the public. The gallery is open from noon to 4 p.m. Saturday through Wednesday, and noon to 7 p.m. Thursday and Friday. It is closed Friday, Nov. 11, for Veterans Day and Wednesday to Sunday, Nov. 23-27, for the Thanksgiving break.
The gallery is accessible to people with disabilities. To request accommodations for a disability, please call the gallery at least two weeks before your visit. For information, call 603-358-2720 or visit www.keene.edu/tsag.
Related Stories