Redfern Arts Center Celebrates 25th Anniversary Season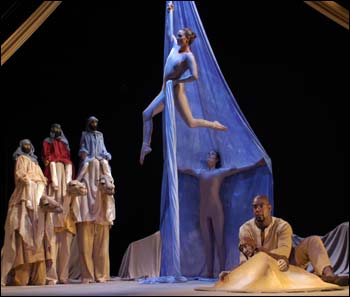 KEENE, NH 8/13/05 - This year Keene State College's Redfern Arts Center on Brickyard Pond will mark its 25th season as a performing arts center.
The season will celebrate the work of many of the legends of the performing arts world and showcase the talents of some unexpected discoveries in theatre, music, and dance.
Leading the list of legends will be the Martha Graham Dance Company, the oldest and most celebrated contemporary dance company in America. The company will bring 24 dancers to Keene and dance from a repertoire that spans 80 years. The performance will take place Saturday, January 28.
The Ronald K. Brown/Evidence Dance Company will dance a special tribute to the legendary jazz diva Billie Holiday on Tuesday, February 21. Brown, an award- winning former Alvin Ailey choreographer and dancer, and his company will make their regional debut with this telling of Holiday's life as an artist and musical pioneer.
Friday, February 3, will find the Nathaniel Dett Chorale visiting Keene. The Chorale was founded to honor the Afro-Canadian composer and musician R. Nathaniel Dett, who was internationally renowned for his dedication to the cause of black music. The concert will feature an appearance by the KSC Chamber Singers.
The legendary music of the Hot Club of France in 1930s Paris made the jazz musicians Stephane Grappelli and Django Reinhardt famous. Their legacy will be honored when the Hot Club of San Francisco performs on Tuesday, March 28. During the concert, several silent films of the era will be screened while the Hot Club plays its signature Gypsy jazz.
Since its formation in 1961, the Dorian Wind Quintet has set the standard to which all wind quintets strive to achieve. The Dorian, the first wind quintet to perform in Carnegie Hall, will be heard on Friday, November 18, and will be joined by KSC's artist-in-residence, pianist George Loring, in Francis Poulenc's Sextet for Winds and Piano.
One of New England's oldest and most respected professional theatre companies, the Weston Playhouse Theatre Company, will return to Keene for the seventh year in a adaptation of Edmund Rostand's lyrical tragicomedy, Cyrano de Bergerac. This year's performance will be at the Colonial Theatre, Tuesday, October 25.
Though perhaps not at legend status yet, the Aquila Theatre Company is certainly not new and undiscovered. Since the early 1990s, its performances of great classics have been eagerly awaited by area audiences. This year Aquila will perform arguably the greatest tragedy ever written, William Shakespeare's Hamlet. The performance is Saturday, April 1.
Though Sandglass Theater is renowned throughout the theatre world for innovative and profound puppet plays, it has created an undiscovered gem with Between Sand and Stars. In collaboration with Gemini Trapeze and Rob Mermin of Circus Smirkus, and inspired by texts from Antoine de Saint-Exupéry's autobiographical Wind, Sand and Stars, the company combines brilliant puppetry with breathtaking aerial acts and swinging trapeze artistry to give life to St. Exupéry's beloved text on art, aspiration, and a deep love of life. A must for the whole family, it will open Brickyard Pond's 25th season on Tuesday, September 13.
New York's hottest new choreographer, Larry Keigwin, leads his dancers, Keigwin + Company, in their New Hampshire debut on Wednesday, November 2. Find out for yourself why the audiences hail Keigwin as the next new dance voice.
Two budding stars of the musical world will display their talents in the Playing for Peace performance, Wednesday, March 22. This special recital joins the talents of KSC music faculty, the Apple Hill Chamber Players, and accomplished student musicians participating in the KSC Playing for Peace Residency Program. The student musicians who will perform are violinist Ealain McMullin from County Donegal, Ireland, and pianist Reem Abu Rahmeh from Amman, Jordan.
No Presenting Series at Brickyard Pond would be complete without showcasing the talents of Keene State's faculty and students. Four events have been selected for this 25th anniversary series. Friday, December 9, will find Douglas Nelson leading the ever-popular KSC Concert Band in an evening featuring an appearance by the KSC Percussion Ensemble and the performance of a new composition by world-renowned composer Jack Stamp, director of bands at Indiana University of Pennsylvania. The KSC Music Faculty will be heard again on April 19 in a special recital to honor the 250th anniversary of Wolfgang Amadeus Mozart's birth.
Keene State Theatre will give area audiences the rare opportunity to see Urinetown, the surprise hit of the 2001 Broadway season and winner of Tonys for Best Director, Best Original Score, and Best Book. Time Magazine deemed it "Better than The Producers" and critic Rex Reed described is as "a fresh, unique, original, impudent, colorful, exciting, irreverent, surprising, and wonderful musical." Performances run November 16-20. Ron Spangler is the director and Diane Cushing is musical director.
One of the oldest traditions at Keene State is An Evening of Dance. Founded by Alta-Lu Townes and now directed by Marcia Murdock, it features fresh and outstanding contemporary dances choreographed and performed by KSC faculty, staff, alumni, and students. Performances run April 19-22.
Brickyard Pond will also present school performances for Between Sand and Stars, Cyrano, and Hamlet. Tickets are now on sale for all shows at Brickyard Pond, including other Department performances. They may be ordered by calling 603-358-2168 or on the web at www.keene.edu/racbp.
Memberships that offer 20-percent discounts on all Presenting Series performances are also available.
Related Stories