KSC President Yarosewick Honored by Plymouth State University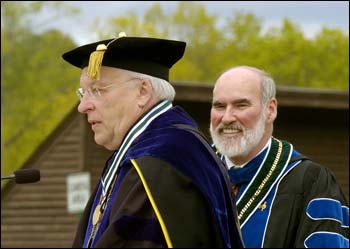 KEENE, N.H. 5/27/05 - Keene State College President Stanley J. Yarosewick received the Harold E. Hyde Award at the Plymouth State University commencement ceremony on Saturday, May 21, on the PSU campus. Dr. Yarosewick is retiring this summer after 11 years in the position.
"President Yarosewick - Dr. Y, as he is affectionately known on the Keene State campus by faculty, staff and students - has been an outstanding leader for Keene State, the University System of New
Hampshire, and public higher education in the nation," said PSU President Donald P. Wharton. "The exemplary standard of stewardship which he has set during his years at Keene is a model for all of us in higher education to emulate. The good which Stan has done for thousands of Keene State students and graduates is a record of service that will long endure."
The Harold E. Hyde award is named for the 10th president of Plymouth State who served from 1951 to 1977. Under his leadership, Plymouth Teachers College became Plymouth State College in 1963. He led the institution through three decades of both physical and programmatic growth, becoming known nationally as a leader of college presidents.
Related Stories