Keene State Announces Athletic Awards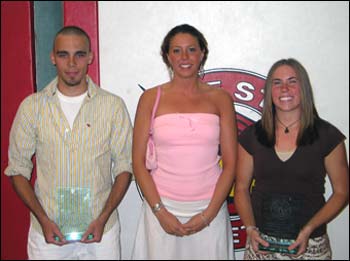 KEENE, N.H. 4/29/05 - Dave Bridgewater and Michelle Mason were named Keene State College's male and female Athlete of the Years respectively and Michelle Harmon was the recipient of the Scholar-Athlete Award at the College's 2004-05 Athletic Awards Dinner held Friday night at Spaulding Gym.
In addition, the Keene State softball team received the Don Carle Award for having the highest GPA among Owl teams.
The Keene State College athletic department also made a special presentation to Dr. Stanley J. Yarosewick, who is retiring this June after serving the past 11 years as KSC's president.
Bridgewater, a senior member of Keene State's cross country and track teams, added to his All-American collection with four honors this year. The Unionville, Conn., native placed fifth in the 1,500-meter race at last spring's NCAA Outdoor Track Championships. He finished 25th at the national cross country meet this fall, and also earned All-America notoriety by placing third in the mile and being a member of the Owl distance medley relay team that finish sixth at the NCAA Indoor Track Championship. Bridgewater, who also received All-New England honors in cross country, and indoor and outdoor track, will be looking to garner his eighth career All-American award later this season at the NCAA Outdoor Track Championship.
Mason is presently completing a record-setting career as a member of Keene State soccer and lacrosse teams. This fall, the senior goalie from Fairport, N.Y., earned All-Region, All-New England, and All-Conference honors while rewriting the Owls' record book. She set KSC career marks for wins (66), saves (437), and shutouts (43) while leading the Owls to the Little East Championship and a berth in the NCAA Tournament. Mason has been just as a prolific as an attacker on the KSC lacrosse team. An All-Conference scoring machine who netted the dramatic game-winning goal in last year's ECAC Championship game, Mason enters Saturday's regular-season finale against Southern Maine holding just about every KSC offensive record including career marks for goals (170), assists (74), and points (244).
A junior member of the Keene State soccer team, Harmon excelled on the field and in the classroom this year. A dean's list student majoring in elementary education, Harmon has utilized her size, strength, and distribution skills to become a valuable midfield player for the Owls. Finishing the season with two goals, five assists, and nine points, the Nashua, N.H., native notched an assist on the game-winning goal against Southern Maine in the semifinals of the LEC Tournament, which propelled the Owls into the finals.
The following student/athletes are members of the Keene State All-Academic Team (3.3 GPA or better).
Baseball: Jon Young (Rindge, N.H.), Ryan Kohler (Alstead, N.H.); Men's Basketball: Ben Maynard (Nobleboro, Me.), Kevin Ritter (Hopewell Junction, N.Y.);
Women's Basketball: Katy Emmons (Boxboro, Mass.);
Cheerleading: Amy D'Avanzo (Southbury, Conn.), Jamie-Lee Francoeur (Mont Vernon, N.H.), Jessica Lett (Waltham, Mass.);
Men's Cross Country/Track: Patrick Ard (Kingston, N.H.), John Prior (North Weymouth, Mass.), Matt Haley (Middleton, Mass.), Jordan Kimble (Griswold, Conn.), Andrew Mercer (Laconia, N.H.);
Women's Cross Country/Track: Chepina Witkowski (Keene, N.H.), Megan Perkins (Weare, N.H.), Sophie Holly (Mansfield, Conn.), Danielle Smidutz (Alstead, N.H.), Candice Brown (Londonderry, N.H.), Lynn Therrien (Rochester, N.H.), Laura Kintz (Rindge, N.H.), Breanne Lucey (Keene, N.H.), Laurie Yorgensen (Wethersfield, Conn.), Stephanie Gibson (Sanbornton, N.H.), Jennifer Adams (Saratoga Springs, N.Y.);
Field Hockey: Amy Dubois (Jefferson, N.H.), Nichole Garneau (Twin Mountain, N.H.), Jessica Mirisola (Tewksbury, Mass.), Katy Pokrywka (Roxbury, Conn.), Rachel Ladd (Bridgewater, Mass.), Kristen Zaluki (North Swanzey, N.H.);
Men's Lacrosse: Michael Wood (Exeter, N.H.), Meade MacKay (Stratham, N.H.), Ryan Hazelton (Chester, N.H.), Eric Momnie (South Windsor, Conn.);
Women's Lacrosse: Christina Honeycutt (Weare, N.H.), Mandy Gray (Sharon, Mass.), Melissa Gagnon (Saco, Me.), Samantha Little (Norwich, Conn.);
Men's Soccer: Gabe Bergeron (Hopkinton, R.I.), John Harke (Leeds, Mass.), Muharem Mahmutovic (Manchester, N.H.), Bryan Cogliano (Canton, Mass.);
Women's Soccer: Michelle Harmon (Nashua, N.H.), Amy St. John (Barre, Vt.), Jessica Pepin (Bow, N.H.), Breanne Lucey (Keene, N.H.), Alexandra Wasiuk (Keene, N.H.), Molly Blanchette (Canterbury, N.H.), Lisa Bergeron (Keene, N.H.), Katie Irish (Walpole, N.H.);
Softball: Kathleen Gambino (Freeport, N.Y.), Kaity Conklin (Selkirk, N.Y.), Kari Gardner (Grafton, Mass.);
Women's Swim/Dive: Karly Smith (Concord, N.H.), Laura Cuomo (Hamden, Conn.), Shannon McSpiritt (Londonderry, N.H.), Shannon Talbot (Cheshire, Conn.), Elizabeth Davis (New Hartford, Conn.);
Athletic Trainers: Kristine Anderson (Keene, N.H.), Mary Dwight (Greenfield, Mass.), Lauren Goley (North Kingstown, R.I.), Shaina Winston (Norwalk, Conn.), Emma Mitchell (Saxtons River, Vt.), Henry Bailly (Lanesboro, Mass.).
Related Stories