"Emerging Art" Exhibit Showcases KSC Student Work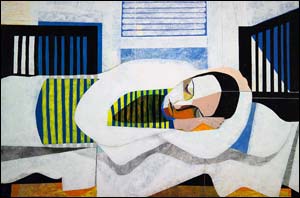 KEENE, N.H. 3/24/05 - The Keene State College Department of Art will present "Emerging Art," the annual KSC art students' exhibition, from Saturday, April 16, through Sunday, May 8, at the Thorne-Sagendorph Art Gallery.
Bachelor of fine arts candidates, seniors, and other students majoring in art and graphic design will exhibit their paintings, drawings, prints, sculpture, and ceramics, as well as posters, advertising and packaging designs, promotional pieces, and books. The pieces were selected by art department faculty from work students completed in all levels of art classes throughout the academic year.
One gallery will feature artwork by six bachelor of fine arts students graduating in May: Barry Belknap of Hillsboro, Hakan Brosnan of Shelburne, Beth LaRoche of Berlin, Frances Lassor of Nashua, Abi Marsh of Meriden, and Christie Valihura of Reading, Mass. This is the third year of the BFA program, a highly selective program in the visual arts that requires seniors to exhibit their work.
Seven other senior students expecting to receive bachelor of arts degrees will have their artwork featured in the second gallery along with other students' works. These graduating seniors are: Haley Burke of Fairfield, Conn., Sara Hubbard of Keene, Adrienne LaBombard of Canaan, Ashley Niedel of Longmeadow, Mass., Hannah Outwater of Bennington, Vt., Emily Schoch of Deerfield, and Jasmine Stewart of Gorham.
These 13 students have been preparing their artwork for exhibit during a Senior Seminar course taught by Christopher Nitsche, an assistant professor of art and sculpture.
Friends of the Thorne will host an opening reception for "Emerging Art" on Friday, April 15, from 5:30 to 7:30 p.m. at the gallery.
Free guided gallery tours of "Emerging Art" are offered by Keene State art student Beth LaRoche at 3 p.m. on three Sundays: April 17 and 24 and May 1. Reservations are not required.
Gallery visitors are invited to vote for their favorite works in graphic design and studio art. The artist of each winning selection will be presented with a People's Choice Commendation, which carries a $100 cash prize and is sponsored by the Friends of the Thorne. The winners will be announced on Monday, May 2.
The Graphic Design Senior Portfolio Review, held in conjunction with "Emerging Art," will take place on Friday, April 29, from 4 to 8 p.m. in the Mabel Brown Room of the L.P. Young Student Center. Representatives from local businesses are invited to review the portfolios of graphic design seniors. Graphic design seniors have been preparing their portfolios during a Senior Portfolio course taught by Robert Kostick, an instructor of art and graphic design.
The exhibit, reception, and portfolio review are free and open to the public. The gallery is open from noon to 4 p.m. Saturday through Wednesday, and noon to 7 p.m. Thursday and Friday. It will be open from noon to 5 p.m. on Sunday, May 8, for Keene State College commencement.
The gallery is accessible to people with disabilities. To request accommodations for a disability, please call the gallery at least two weeks before your visit. For information, call 603-358-2720 or visit www.keene.edu/tsag.
Related Stories