Robert Battle Dance Highlights 'An Evening Of Dance' at Keene State College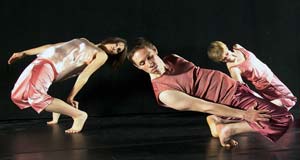 KEENE, N. H. 3/22/05 - A dance created by New York City choreographer Robert Battle will highlight the 29th annual "An Evening of Dance" Wednesday- Saturday, April 13-16, at 7:30 p.m. in the Main Theatre of the Redfern Arts Center on Brickyard Pond. Tickets are $7 for the general public and $5 for KSC students, senior citizens, and youth age 17 and under. Call the box office at 603-358-2168.
Battle's dance "Etude" is a study in the movement vocabulary and aesthetic embodied by his company, Battleworks. This work was created under the auspices of The American Dance Legacy Project, which aims to expand the audience base for classic modern dance repertory. Marcia Murdock, director of the Dance Program at Keene State, and William Seigh, associate professor of dance, directed the rehearsals for "Etude," to be performed by student dancers Cassandra Ferreira, Claire Lombardo, Angie Muzzy, Lisa Bates, and Stephanie Ritchie.
In addition to Battle's work, this year's dance concert will showcase eight dances, five choreographed by students and three by faculty.
Murdock will present "In Perfect," a series of familial vignettes that follow a day in the life of a perfectionist. Three dancers perform to the music of Peter Jones and Tin Hat Trio.
Seigh choreographed "Irresolute Salute," a homage to indecision. Twelve performers dance, discover, and display their vacillation to the music of J. S. Bach.
Cathy Nicoli, a dance instructor at KSC, created "Intimate Geometry," a kinesthetic kaleidoscope that explores spatial design and the human figure. Set to music by Thievery Corporation, the nine dancers metaphorically ask: 'What's out there and how do I fit in?'
"An Evening of Dance" will include two student-choreographed works that were performed at the New England Regional American College Dance Festival this February at the University of Maine, Orono. Valerie Snowdon, a senior dance student and recipient of this year's Alta Lu Townes Memorial Dance Award, created "Would You Like Some Propaganda with Your Freedom Fries?," a sextet that explores identity in a society obsessed with domination. Kristen Prajzner, a senior dance major, choreographed "Reaching Deep," a solo that reflects on that moment of complete relaxation right before you fall asleep.
Senior dance student Melanie Rosner created the choreography and sophomore Danielle Discenzo composed the music for "Simultaneous Soliloquy," a duet that explores the connected but distant parallels between two strangers.
Student choreographer Dave Abrams created "Epiphany," a trio that grapples with the role of the individual within community.
Senior dance major Jillian Davey choreographed "Folk," which examines the prospect of leaving, even as past comforts and safe decisions beckon from the corner. Three dancers perform to an original composition by KSC senior Theatre and English major Steven Gravelle, who also plays his piece.
Céline Perron, professor of Theatre and Dance, is responsible for the set and lighting design. Costumes for the production are by Elisabeth Tobey Roos, associate professor of Theatre and Dance. Craig Lindsay, theatre faculty member, is technical director for "An Evening of Dance."
Related Stories