Exploring Our World: The Fifth Annual Academic Excellence Conference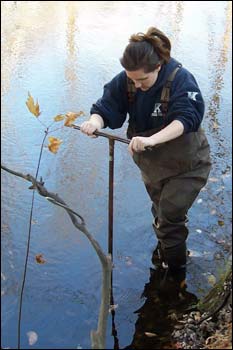 Contaminants in the Ashuelot River, teaching dance to visually impaired children, and the usefulness of roundabouts as solutions to traffic congestion will be among presentations by students at Keene State College's Fifth Annual Academic Excellence Conference.
The conference, which is free and open to the public, will be held Saturday, April 2, 9 a.m.-5 p.m. in locations in the Student Center and the Science Center.
The conference is a showcase of student research and scholarship carried out over the past year. Many projects investigate topical issues - the local environment, health and exercise, and child development - as well as themes from literature, history, psychology, education, and the sciences. About 70 students will make presentations.
For the first time, students from the master's of education World Educational Links program, which focuses on diversity and international perspectives in education, will present at the conference. The featured high school student presenter will be Skyler Degenkolb from Bellows Falls Union High School.
Among presentations:
"The Extent of Areas Containing High Concentrations of Lead and Copper in Ashuelot River Sediments" by Erin Burns of Brookfield, Conn., a senior majoring in environmental science and chemistry.
"Teaching Dance to Visually Impaired Children" by Cindi L'Abbe of Alstead, N.H., a junior majoring in health science.
"Driving Around in Circles: The Roundabout Solution to Traffic Congestion" by Shelby Byrnes of Keene, and Jesse Girdwood of Bethlehem, N.H., both seniors majoring in geography.
"Video Game Effects on the Mood Fluctuations of Young Adults" by Michael Viglione of New Ipswich, N.H., a senior majoring in psychology.
"Who's Your Hero? A Conversation with a Few Modern American Novelists" by Elizabeth Biron of Manchester, N.H., a senior majoring in psychology, Steven Gliddon of Rochester, N.H., a junior majoring in English, and Lauren Baggott of Moodus, Conn., a senior majoring English
"Steering Wheel Design and Development" by Matt Bullard of Unionville, Conn., a senior majoring in product design.
The conference takes place on Saturday, April 2, 2005.
Click here to see the complete schedule of presentations. For other questions about the conference, call Donna Hinz at 603-358-2104.
Related Stories