Scottish Fiddler Bonnie Rideout at Keene State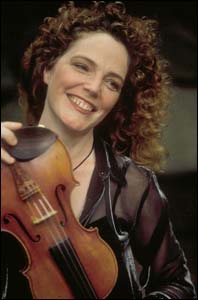 KEENE, NH, 1/4/05 - Considered by many to be the finest and most fiery fiddler of our time, Bonnie Rideout will bring the evocative music of Scotland to the stage of Keene State College's Redfern Arts Center on Brickyard Pond, Thursday, Jan. 27, 7:30 p.m.
Joining the Bonnie Rideout Trio will be America's most respected uilleann piper, Jerry O'Sullivan. The Washington Post described a recent performance by Rideout as "shifting from the stirring to the sublime." The concert is made possible through a sponsorship by the Keene Sentinel.
Tickets for the concert are available through the Brickyard Pond box office, 603-358-2168, or on the web at www.keene.edu. Ticket prices are $20 and $16 for the general public, $18 and $14 for seniors and KSC faculty and staff, $11 and $9 for youth 17 and younger, and $5 for KSC students with ID.
Related Stories