Professors Promote International Partnership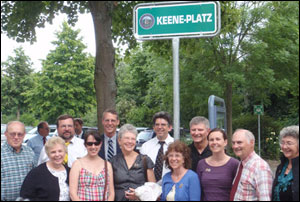 In early July, three KSC faculty members-Professor of Holocaust Studies and History Paul Vincent, Assistant Professor of Music Heather Gilligan, and Assistant Professor of Music Sandra Howard traveled with the Chamber Singers of Keene (CSK) to Einbeck, Germany for a week of cultural exchange.
For several years, Dr. Vincent has served on the Keene-Einbeck Partner City Committee, and he is a bass vocalist with the CSK. Dr. Gilligan serves as the group's composer-in-residence and collaborative pianist, and Dr. Howard as its conductor. Although past cultural exchanges have included soccer teams and visits from city delegates, this was the first exchange involving arts organizations from these two communities. Members of the CSK stayed in host homes and collaborated with the host choir, Voices from Salzderhelden, under the direction of music educator Mrs. Annett Steinberg.
The choirs performed in a Sunday church service at St. Jacob's Church in Salzderhelden, and sang for a standing-room audience in Einbeck on Thursday, July 5th. The concert featured the European premieres of Dr. Gilligan's choral compositions, "Leaf Blankets" and "A Prayer in Spring," and included collaborative works prepared by the choirs, performed together under the direction of Mrs. Steinberg and Dr. Howard.
Of course, the singers toured the area, visiting local schools, businesses, and city events, hobnobbing with the Einbeck mayor and Einbeck Partner City Committee. Plans are under way to bring Voices from Salzderhelden and other Einbeck delegates to Keene for a choral exchange. Stay tuned…
Photo caption: Members of the Chamber Singers of Keene, including Heather Gilligan (fourth from left) and Paul Vincent and Sandra Howard (fourth and third from right) stand at the newly dedicated Keene-Platz in Einbeck, Germany near the New Town Hall.
Related Stories