Jennifer Dunnington '93 Puts the Music in Hugo, The Departed, The Hobbit …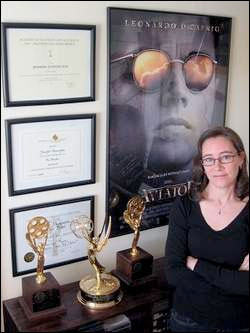 There are some advantages to studying film at a school the size of Keene State, where the classes are small, according to Jennifer Dunnington '93. She brought many interests and talents to KSC, including music and dance, but eventually settled into a film major. Because of the intimate class size, she was able to try her hand at several aspects of movie making and combine her interests to eventually find her perfect niche: that of motion picture music editor. She now works closely with the composers, film directors and picture editors of each project to help maintain the integrity and power of the music in the film as the picture continually changes during the film editing process.
"Music and dance have always been a part of my life," Dunnington explained, "so when I had the opportunity to put them together with film, it was was a perfect fit for me. The music in a film is choreographed against the images so being aware of that connection in conjunction with the musical structure is crucial to the effect that the score has in a scene".
She's worked on several Martin Scorsese films and recently won two of the Motion Picture Sound Editors Golden Reel awards for her work on the hit 3D movie, Hugo, and for the HBO documentary George Harrison: Living in the Material World. And those are not the first: She's got two previous Golden Reels and an Emmy, plus several certificates for having been nominated for other Golden Reels and Emmys.
Dunnington's movie credits also include The Departed, Shutter Island, Cosmopolis, and Boardwalk Empire (for which she won the Emmy). She is currently working on The Hobbit.
While she was at KSC, she took a film editing class from Paul Barnes, the head picture editor at Florentine Films in Walpole, NH. Through Prof. Barnes she started an internship at Florentine, where she worked on the 9 part series documentary, Baseball, directed by Ken Burns. During that time, she met several professionals who recognized her talent and offered invaluable encouragement and mentoring. "That internship was probably the most important step in my career" she recalled.
"The fact that KSC was a small school, with small classes, enabled us all to make films and gain some experience with directing, lighting, cinematography, editing, sound and to collaborate with a team of people to get a project done" Dunnington said. "I got to try my hand at a lot of aspects of film, and that was a great experience. In a bigger school, I might not have had as much exposure to so many things."
Her advice to current film students? Explore all aspects of film making, get a wide range of experience, and find the pieces you love. Many film students want to become directors, she explained, but there are dozens of vital jobs that go into creating a movie: costume designers, set designers, sound recordists, cinematographers, sound editors, art directors, casting directors, gaffers, production assistants, to name just a few.
"There are many ways to be involved in filmmaking besides being director," Dunnington pointed out, "and the directors, post-supervisors, and producers who have experience doing the component jobs have a more thorough understanding of how the film is created from the bottom up. They know what needs to happen when. Projects go very smoothly for one producer I've worked with because he's worked as an editor, he's worked in the sound department-he understands what we need and why we need it, so we don't waste time haggling over small details. With less experienced people controlling the budget, there can be a lack of understanding of what is doable with the amount of time, money, or the crew size that we have on a project to get the desired end result. This inexperience often ends up adding more overages and expense to the project at the end of the day. So the more well rounded you are in your experience in making a film, the better film maker you'll be."
Related Stories