Heather Duval '12 Interviews Kristen Stewart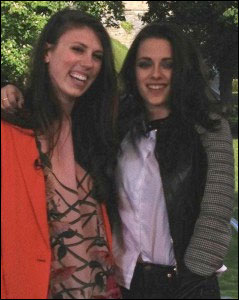 Two days before graduating with an economics degree with management minor, Heather Duval '12 learned that she'd won PopSugar's "I'm a Huge Fan" contest, which meant PopSugar was flying her and her mother to London to interview Kristen Stewart about Stewart's newest movie role as Snow White in Snow White and the Huntsman.
It all started when Heather answered a PopSugar online contest question about Kristen. A few weeks later, PopSugar notified her that she was one of five finalists. She was invited to continue via a Skype interview, where she answered more questions about Kristen. That was on May 1. Two days later, Heather learned she won. "I was told I won on May 3rd, graduated May 5th, and we left for London May 9th," a still-reeling Heather said. "That made it one whirlwind of a trip." (Don't miss the video below.)
She was invited to act out a scene from the movie, carrying a shield and brandishing a sword, and riding Rusty, the same horse Kristen rode in the movie. PopSugar introduced Heather to Kristen Stewart's dialect coach, Barbara Berkery, who gave Heather a lesson in speaking with a British accent. "She changed my attempts at a downtown British accent to a more traditional one," Heather explained. Before her interview with Stewart, PopSugar gave Heather a full designer outfit from mywardrobe.com and a makeover at Benefit cosmetics.
When it was time for Heather to meet her favorite celebrity, PopSugar surprised her one last time by bringing her to Arundel Castel in the English countryside to perform the interview. The charming Stewart soon put Heather at ease. "She is very intelligent and always puts so much thought into answering questions," Heather recalled. "She is incredibly passionate about what she does, always pushing herself to do more. The energy she exudes is contagious." Soon, the two were chatting as though they had known each other for years.
Heather's experience has had quite an impact on her. "I've always had an interest in the film and entertainment industry, though I'd never thought much about the media/press side of things," Heather said. "I feel like it opened new doors that I hadn't known existed for me. Over that one week, I was also introduced to many jobs I hadn't known about."
It was an amazing experience, and PopSugar had made sure the memories won't fade too soon by creating some great video of Heather's trip. Check them out:
Part One: Meet Our Winner, Head to London, and Get Into the World of Kristen!
Part Two: Riding Kristen's Horse From Snow White and the Huntsman!
Part Three: [Kristen Talks Swearing on Set and Her Upcoming Role in K-11](http

//www.youtube.com/watch?v=iHv6qCjAURE&feature=autoplay&list=PLBE46D00182C1EC8 1&playnext=1)!
Related Stories