Cirque Mechanic's Birdhouse Factory at KSC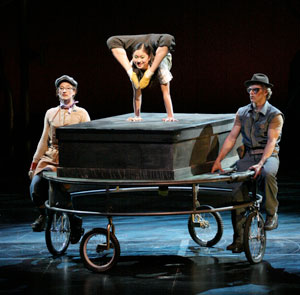 KEENE, 10/15/09 - The circus is coming to Keene when Cirque Mechanic performs Birdhouse Factory at Keene State College's Redfern Arts Center on Sunday, November 1, at 3 p.m., with a school performance on November 2 at 10 a.m. The New York Times described Birdhouse Factory as "Exceptional, evocative, eye-catching, ear-catching, and, to keep the list short, engrossingly entertaining." It is suitable for ages three and older.
Birdhouse Factory is a place where acrobatics and early 20th century machines come together. It pays tribute to a time gone by, integrating the assembly line with original machines which power or assist the circus acts as they attempt to build a better birdhouse. The show was inspired in part by Diego Rivera's Detroit Industry Murals, by Rube Goldberg's outrageous illustrations, and by Charlie Chaplin's film, Modern Times.
At the Redfern, spectators will watch a contortionist perform on a turntable powered by unicyclists. They will be captivated by the trapeze artist flying high, thanks to an acrobat spinning inside a giant gear-like wheel. They will be stunned when the trampoline wall artists defy the laws of physics by virtually flying and walking on air. All the while they will be giggling at the antics of the comedic characters, impressed by the acro-dancing, and enchanted by the story of laughter, love, flight, and birdhouses.
The show is brought to life thanks to the vision of its creative team, Director Chris Lashua, Assistant Director/Choreographer Aloysia Gavre, and Character Actor/Performer Steven Ragatz, veterans of the world-renowned Cirque du Soleil.
Tickets and information are available at the Redfern Arts Center box office, 603-358-2168, or online at www.keene.edu/racbp, where you can also view many video clips from the season's Visiting Artists repertoire. Special memberships with many benefits, including free tickets, are also available at the Redfern box office or online.
Related Stories