Sea of Birds Comes to the Thorne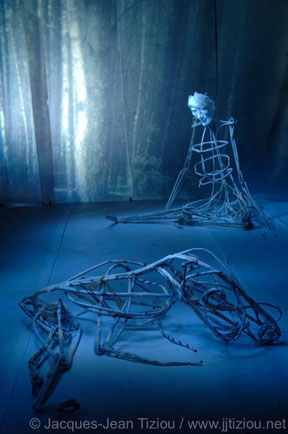 KEENE, N.H., 2/23/09 - In a unique collaboration between Keene State College's Thorne-Sagendorph Art Gallery and the Redfern Arts Center, Sea of Birds, based on a child's memories of an Eastern European displacement camp during the Second World War, will be seen at the Thorne Gallery, Thursday, March 12 at 6 p.m, 7:30 p.m., and 8:30 p.m. There will be a brief question-and-answer session with the cast and audience after the 6 p.m. performance.
The public is invited to watch the set being installed at the Thorne from noon to 4 p.m., Monday, March 9, through Wednesday, March 11.
Seas of Birds is created by Philadelphia writer and performance artist Sebastienne Mundheim, who is known for integrating historical themes with lyrical storytelling that engages children and adults. The performance promises to transport audiences to a fantastical world, exploring history, memory, and the power of the imagination.
Structured like Homer's Odyssey and reminiscent of The Little Prince, the play parallels a child's memories with fantasy characters from an American child's imagination. As we follow the narrator's journey, we meet Ivars the Butterfly Catcher, Gregor the Tormented Meadow Dweller, a Serpent with a Supercilious Eyebrow, and others who live in a sea of blue and black birds. Mundheim tells her tale making use of delicate paper sculpture, dance-based puppetry, and live musicians.
The performances are made possible in part by the Expeditions program of the New England Foundation for the Arts (NEFA), made possible with funding from the National Endowment for the Arts (NEA) regional touring program and the American Masterpieces Initiative, with additional support from the six New England state art agencies.
Sea of Birds is also funded through a generous contribution from Markem- Imaje.
Seating is limited in the Thorne Gallery, so advanced reservations are strongly encouraged. Tickets are available through the Redfern box office, 603-358-2168, or online at www.keene.edu/racbp. The box office at the Thorne Gallery will open one hour before curtain. Tickets for this performance are $15 for the general public, $13 for seniors and KSC faculty and staff, $8 for youth 17 and younger, and $5 for KSC students with ID.
Tickets for all of the Redfern's presenting events and for performances by the departments of Music and Theatre and Dance are also available. Patrons can still purchase 20/20 memberships that enable them to receive a 20% discount for all Presenting Series performances.
Related Stories