Ain't I a Woman! Comes to the Redfern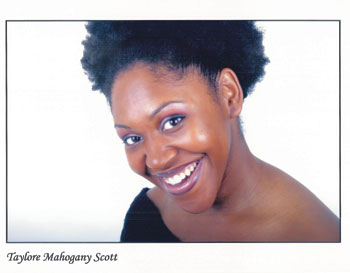 KEENE, N.H., 2/16/09 - Ain't I a Woman!, celebrating the life and times of four illustrious African American women, will appear at Keene State College's Redfern Arts Center on Brickyard Pond, Wednesday, March 4, 2009, at 7:30 p.m. Woman!, performed by the Core Ensemble, is a chamber music theatre work for actress and trio (cello, piano, and percussion).
The production features a musical score drawn from the heartfelt spirituals of the Deep South, the urban excitement of the Jazz Age, and contemporary concert music by African Americans. The African American women portrayed are ex-slave and fiery abolitionist Sojouner Truth, renowned novelist and anthropologist Zora Neale Hurston, exuberant folk artist Clementine Hunter, and fervent civil rights worker Fannie Lou Hamer.
The Core Ensemble is comprised of Tahirah Whittington, cello; Hugh Hinton, piano; and Michael Parola, percussion; with actress Taylore Mahogany Scott. Woman! is a joyful exploration of the trials and triumphs of four passionate and accomplished women. It is the latest in a series of multicultural and feminist performance pieces produced by the Ensemble over the past ten years. The production tours during Black History Month and Women's History Month.
A versatile performer, Taylore Mahogany Scott has performed in film and television, including the nationally televised PBS show African American Lives with Oprah Winfrey. Her theatre credits include New York Classical Theatre's All's Well that Ends Well and As You Like It, American Globe Theatre's Romeo and Juliet; Cincinnati Shakespeare Festival's MacBeth; and Dallas Theatre Center's A Christmas Carol.
The Core Ensemble has toured in Australia, England, Russia, Ukraine, the Caribbean, and in every region of the U.S. Read more about the Ensemble at www.core-ensemble.cc.
Tickets are available through the Redfern box office, 603-358-2168, or online at www.keene.edu/racbp. Ticket prices are $20 for the general public, $18 for seniors and KSC faculty and staff, $11 for youth 17 and younger, and $5 for KSC students with ID.
Tickets for all of the Redfern's presenting events and for performances by the departments of Music and Theatre and Dance are also available. Patrons can still purchase 20/20 memberships that enable them to receive a 20 percent discount for all Presenting Series performances.
Related Stories