Joseph Heller's Biting Satire on The Evils of War, Catch-22, Opens The Redfern's 27th Season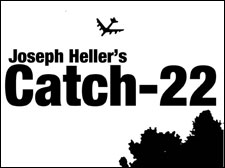 KEENE, N.H., 9/9/07 - Keene State College's Redfern Arts Center on Brickyard Pond will open its 27th season with the Aquila Theatre Company's newest production, Joseph's Heller's dramatic adaptation of his biting antiwar satire, Catch-22. The production will be seen twice, Tuesday, September 25, at 7:30 p.m. and in a special school performance on Wednesday, September 26, at 10:30 a.m.
This will be Aquila's ninth appearance in Keene, and their productions of enduring and contemporary classics are always entertaining and provocative. Catch-22 is supported by a generous contribution from The Keene Sentinel.
Catch-22 is one of the greatest modern American novels and remains incredibly popular throughout the world. Heller wrote this stage version, but his script received only one small production in 1971 at the John Drew Theater in East Hampton, New York. This is perhaps due to the huge popularity of Mike Nichols's film version. With the blessing of the Heller estate and Heller's son Ted, Aquila's production will be the first-ever professional production to tour nationally, and it is planned to be the very first major London and New York production.
The Aquila Theatre Company's dynamic and hilarious interpretation of Heller's play will explore the important and timely questions of the absurdity of war and its impact on society. Heller's highly allegorical and wonderfully surreal text provides an excellent dramatic vehicle for raising such issues at this time.
Set on an island off the coast of Italy, Catch-22 finds World War II bombardier Yossarian caught in a world of bureaucratic absurdity and irrational madness. Determined to keep the squadron active and on the front line, Yossarian's superiors abuse their authority by increasing the number of required flying missions, making it impossible for anyone to complete these missions and be discharged from duty. Yossarian's efforts to plead insanity fail, as his superiors realize that active avoidance displays a healthy mental state, stating "a concern for one's own safety in the face of dangers that are real and immediate" is "the process of a rational mind."
Yossarian avoids the missions by creating ridiculous excuses, but in doing so he prolongs his duty as the missions continue to accrue and, as he says, "complete strangers keep trying to kill me!" A maze of interrelated catch-22s develops as the play unfolds. One can read more about Aquila or see clips of previous productions at www.aquilatheatre.com/index.html.
Tickets are available through the Brickyard Pond box office at 603-358-2168 or on the web at www.keene.edu/racbp. Prices are $26 and $21 for the general public, $24 and $19 for seniors and KSC faculty and staff, $19 and $13 for youth ages 17 years and younger, and $5 for KSC students with an ID. Tickets for the special school matinee are $9.
Tickets for all of the Redfern's presenting events and for performances by the departments of Music and Theatre and Dance are also available. Patrons can still purchase 20/20 memberships that enable them to receive a 20% discount for all Presenting Series performances.
Related Stories