Fall Sidore Lecture: Ongoing Darfur Genocide Topic of Talk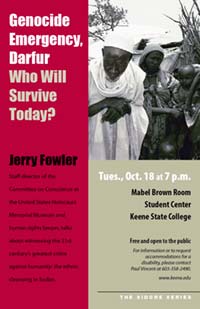 KEENE, N.H. 10/5/05 - Since February 2003, more than 180,000 people have been killed or died from starvation and disease, and nearly two million have been driven from their homes by the violence in the Darfur region of Sudan, according to United Nations figures.
In his talk "Genocide Emergency, Darfur: Who Will Survive Today?" Jerry Fowler, this semester's Sidore lecturer at Keene State College, will describe the ethnic cleansing of black African groups by pro-government militia and soldiers in the Darfur region of Sudan. Fowler, the staff director of the Committee on Conscience, which guides the genocide prevention efforts of the United States Holocaust Memorial Museum, will speak at the College on Tuesday, Oct. 18, at 7 p.m. in the Mabel Brown Room of the Student Center. The event is free and open to the public.
The conflict began when two groups, the Sudan Liberation Army (SLA) and the Justice and Equality Movement, staged a rebellion against the Sudan government, which is influenced by the culture and religion of Sudanese Arabs from the north of the country. In response, the government mobilized an Arab militia force - the Janjaweed - which, according to the United Nations and many aid organizations, has committed a catalog of atrocities against villagers in Darfur. Now, many villagers who survived raids by the Jangaweed face the prospect of death by starvation or disease.
The conflict in Darfur is the second of two civil wars in Sudan. For more than 20 years, the SLA has been fighting government forces in the south of the country, also in protest of discrimination and the sharia law imposed by the Arab-influenced government - the rebel groups and the villagers in the south are of predominantly ethnic religious or Christian faith. The rebels and the villagers in Darfur and the south also characterize themselves as "black African," giving rise to the theory among some observers that the ethnic cleansing may also be racially motivated.
Fowler served previously as legislative counsel for the Lawyers Committee for Human Rights, where he worked on a broad array of human rights issues, including international justice and refugee and asylum policy. He has taught at George Mason University Law School and George Washington University Law School, and has been a scholar-in-residence at American University's summer Human Rights Institute. From 1993 to 1995, he served as Special Litigation Counsel for the U.S. Department of Justice. He is a graduate of Stanford Law School and Princeton University.
The Sidore Memorial Foundation and the Sidore Series have been established to support campus presentations by speakers on emerging ideas and to enhance faculty efforts to challenge students and the wider community to participate in dialogue around original and sometimes controversial issues facing society.
For more information, contact Paul Vincent, associate professor of Holocaust studies, at 603-358-2490.
Related Stories