Keene State College Art Professor Exhibits Photographs at Redfern Arts Center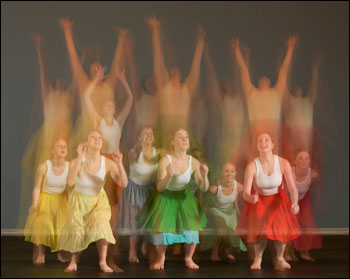 KEENE, N.H., 4/28/2012 - Keene State College Art Professor Peter Roos has an exhibit of dance photographs on display through Friday, May 18, in the lobby of the Redfern Arts Center on the Keene State campus. Roos took the photographs for the poster to publicize "An Evening of Dance," KSC's annual modern dance concert performed April 18 to 21 in the Main Theatre of the Redfern Arts Center.
The photographs "are a result of a wonderful collaboration between two gifted dance professors in the Theatre and Dance program at Keene State College, talented student dancers and myself," explained Roos. "It has been my pleasure to work with Professors William Seigh and Marcia Murdock since 2003 to create posters for this annual event."
This year he used strobe lights to illuminate the stage and create multiple exposure ghost images so it appears that the dancers are leaping and twirling as they would during the concert.
Roos, who lives in Walpole, N.H., is the coordinator of the studio art program at Keene State, where he has taught since 1990. His professional work is primarily in the medium of oil painting and explores psychological views of the figure and portraiture. In recent years he has widened his studio work to include encaustic wax painting and digital photography. His creative work has been exhibited in galleries in Chicago, the Sazama Gallery; the Swope Museum in Terre Haute, Indiana; and at the Bedford Museum in Bedford, Connecticut. His received an M.F.A. in Painting and Drawing from the Art Institute of Chicago. He holds two B.F.A. degrees, one in Interdisciplinary Studies in Architecture and Art from Syracuse University and a second in Painting and Printmaking from the Art Institute of Chicago.
About Keene State College
Keene State College is a preeminent public liberal arts college that ensures student access to world-class academic programs. Integrating academics with real-world application and active community and civic engagement, Keene State College prepares graduates to meet society's challenges by thinking critically, acting creatively, and serving the greater good. To learn more about Keene State College, visit www.keene.edu.
Keene State College: Wisdom to make a difference.
Related Stories