Keene State College Occupational Safety and Health Students Honored for Outstanding Academic Accomplishments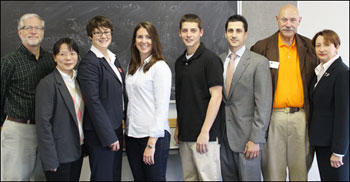 Heather Luhrs and William McAlister Recognized with Scholarships from International Insurance Company
Keene, NH, April 24, 2012: Keene State College proudly announces two selected students as recipient of scholarships from CNA Insurance - a company that provides insurance protection to more than one million businesses and professionals in the U.S. and internationally. Today, Heather Luhrs and William McAlister, both Keene State juniors and Safety and Occupational Health Applied Sciences majors, were each awarded $2,500 scholarships. The scholarships were presented by Basia Caya, Risk Control Director with CNA Insurance, and Dr. Larry McDonald, Keene State College Professor of Technology, Design and Safety. The students were selected based demonstrated outstanding academic achievement, Grade Point Average, leadership and future career interest in a Safety related field.
"Both Heather and William are outstanding students - these scholarship awards are well-deserved and will no doubt contribute to their future success," said Dr. McDonald. "I look forward to continuing my work with these two students, and watching their progress in the classroom and the workplace for years to come."
About Keene State College
Keene State College is a preeminent public liberal arts college that ensures student access to world-class academic programs. Integrating academics with real-world application and active community and civic engagement, Keene State College prepares graduates to meet society's challenges by thinking critically, acting creatively, and serving the greater good. To learn more about Keene State College, visit www.keene.edu.
Keene State College: Wisdom to make a difference.
Related Stories