Noted Poet Skypes into French Seminar Class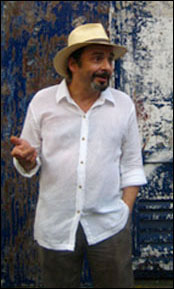 Last month, noted French/Algerian poet Patrice Aba visited Prof. Margaret Langford's French 495 seminar via Skype connection as he wrapped up a week's funded lectureship at Case Western University. He spoke about his life (and artistic inspiration); read selections from his book, Approches à Proches en Croche; and conversed with the seminar students in French. Prof. Langford and her students were duly impressed by this opportunity.
"His views on life and liberty were amazing and very thoughtful," noted student Elissa Johansson. Carol Jeffrey called Aba's poetry "colorful and musical," while Prof. Langford considered the event "inspirational." "Meeting a major contemporary poet is an experience I will not soon forget," said Lindsey Ryder. Patrice Aba lives in Chatillon, just outside of Paris.
Related Stories