Professor William Seigh, Choreographer of More than 52 Modern Dance Works, Named Distinguished Teacher of the Year by Keene State College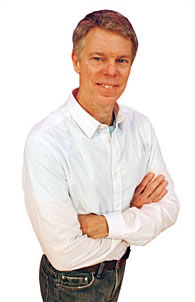 Keene State College today announces the recipient of the school's 2011 Distinguished Teacher Award to William Seigh, Professor of Dance, for excellence in teaching and advising. The award is presented annually by the Keene State College Alumni Association to recognize excellence in teaching, encouragement of independent thinking, rapport with students, and effective student advising. Professor Seigh becomes the 41st recipient of this distinctive honor.
Professor Seigh received an M.F.A. in choreography and performance from the University of Colorado-Boulder. For more than thirty years, Professor Seigh has taught on the faculties of several universities including Wesleyan University, James Madison University, and University of California, Irvine. As a dancer, choreographer and teacher, he has worked throughout the United States and Europe, creating 52 original modern dance works. Current projects include new works for the concert stage and choreography for video installations.
In 2010 he completed a five-year term as President of the American College Dance Festival Association (ACDFA) and now serves on its Advisory Board. ACDFA exists to support and affirm the role of dance in higher education and Professor Seigh was proud to host the 2011 New England ACDFA Conference at Keene State College.
Faculty and students are clearly inspired by Professor Seigh's excellence, as demonstrated by his numerous nominations and praises. One former student said "as my advisor, William encouraged me to take risks in my work and to accept positive, constructive feedback, thus giving me the confidence that I needed to be successful in my college career." In another alumni nomination, it was noted that Mr. Seigh "doesn't merely transfer information that will get me to the next class, he weaves the knowledge of his field with the knowledge of life and creates a lesson so essential that we can't forget. He's worth so much more than whatever his paycheck may tell him at the end of the month and this letter is only the beginning of my repayment to him."
"To be acknowledged for teaching is as high a compliment as I could possibly imagine. To teach at Keene State College, where faculty, staff, and administration all share a common, primary focus on our students and their learning, makes teaching all the more rewarding. How wonderful it is to encourage and mentor these students who possess unlimited potential to make a positive difference in the world," said Professor Seigh.
Related Stories