Alternative Spring Break Beckons KSC Students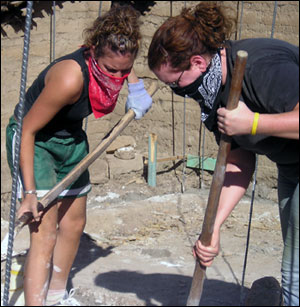 KEENE, N.H. 2/22/05 - Alternative Spring Break has become a tradition at Keene State College. This year marks the twelfth year that Keene State students, faculty, and staff have participated in the program, traveling to Southern states to assist people in need.
According to Joely Ross, AmeriCorps VISTA volunteer at KSC, about 75 people will participate in seven trips this year, including Habitat for Humanity home-building projects in Sea Island and Marion, S.C., and Augusta, Ga. Trips will also be going to Tennessee, where students will do maintenance work on the Cumberland Trail, and to Washington, D.C., where students will volunteer throughout the city. The groups will leave Keene on Friday, March 11, and return a week later.
A student-teacher trip will leave on Feb. 18 to visit a school in Marion, S.C., where students will assist teachers with group lessons, help in science labs, and provide individual mentoring.
Spring break is more than physical labor. Participants raise the money needed to cover their own food and travel expenses and to pay for the materials used to build houses.
Over 300 colleges and universities will participate in ASB programs nationwide this year.
For more information, contact Joely Ross at 603-358-2615.
Related Stories