KSC Features New York - Based Modern Dance Choreographer in "An Evening of Dance"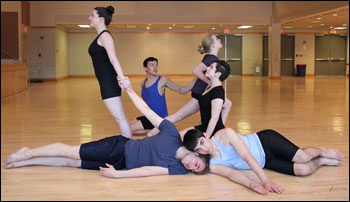 KEENE, N.H., 3/26/12 - A specially commissioned dance by New York choreographer Monica Bill Barnes is featured in An Evening of Dance presented by Keene State College Department of Theatre and Dance. Now in its 36th year, this annual modern dance concert will be performed Wednesday, April 18 through Saturday, April 21, at 7:30 p.m. in the Main Theatre of the Redfern Arts Center. Tickets are $10 for the general public, $8 for senior citizens and children, and $6 for KSC students. For tickets, contact the Redfern Box Office at 603-358-2168 or visit www.keene.edu/racbp.
An Evening of Dance offers nine new modern dance pieces that burst with the creative energy of Keene State's vibrant dance community. Monica Bill Barnes' featured dance "If You Knew" is the culmination of a two year residency with Keene State's dance program. Last year, her company performed as part of the Redfern's Visiting Artists Series and she adjudicated and taught at the New England Regional American College Dance Festival hosted by Keene State.
KSC Dance Program Director Marcia Murdock of Jaffrey, N.H., directs the evening's program that includes her new dance "Meet Me on the Other Side," a quirky quintet inspired by borders, boundaries, and buttonholes. The choreographer encourages the audience to engage in the dancers' world, interpreting for themselves the answers to where, when, and if?
William Seigh of Greenfield, Mass., the 2011 Distinguished Teacher of the Year, choreographed "Iris," a modern dance sextet that relies on images of the flower, the eye, and the camera lens to reveal a view of human relationships. Performing to a complex musical composition by Wim Mertens, the dancers expose the wonder of love and the beauty of the most picturesque iris.
The third faculty work by Cathy Nicoli of Putney, Vermont, "Sweet Trap (Ascend)" explores spatial patterns that over time put restrictive forces over the dancers. As members of a group and individually, the dance explores moments of feeling both trapped and finding freedom.
"Sideways Rain," choreographed by seniors Riley Anne Ahern of Dublin, N.H., and Deirdre Lewis of Rockland, Mass., is a story of innocence, where two quirky characters take on their fears of life, love and loss. Ahern and Lewis, both recipients of the Alta Lu Townes Memorial Dance Award, inquisitively embrace the voice of Etta James, in a world of pastel.
There are two quartets choreographed by senior dance majors. In "45 Past the Hour," choreographed by Ashley Taylor of Wilmington, Mass., the four performers represent pieces of a clock that won't work without each other. Samantha Gardner of Salem, N.H., created "Epilogue" that explores a similar theme but on a human level.
"Strung," choreographed by senior Anna Peterson of Loudon, N.H., is a trio that reveals personal emotions and experiences through abstract movement.
A different approach to exploring relationship is seen in the duet "All Movement is Not Forward," choreographed by Amanda Jones of Salem, N.H. and Margaret Leary of Leominster, Mass. Set to Ben Harper's sound score "The 3 Of Us," this piece throws the audience into the middle of the dancers' journey.
About Keene State Theatre and Dance Department The Department of Theatre and Dance is dedicated to providing a comprehensive course of study that balances theory and practice within a sound liberal arts education. The collaborative nature of theatre and dance disciplines fosters an atmosphere in which students work closely with peers and faculty to gain practical experience in all facets or production and critical engagement. As artists and teachers, our primary focus is to encourage and guide our students as they find their creative voices and experience and question the world through the arts. For more information about the Theatre and Dance Department, visit http://academics.keene.edu/tad or call 603-358-2162.
About Keene State College
Keene State College is a preeminent public liberal arts college that ensures student access to world-class academic programs. Integrating academics with real-world application and active community and civic engagement, Keene State College prepares graduates to meet society's challenges by thinking critically, acting creatively, and serving the greater good. To learn more about Keene State College, visit www.keene.edu.
Keene State College: Wisdom to make a difference.
Related Stories