Chloe Edmonds Receives Research Fellowship at Brown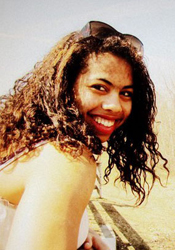 Chloe Edmonds, a double major in Holocaust and Genocide Studies and American Studies, has been offered a paid research fellowship at Brown University for the summer. She'll be working with Dr. Maud Mandel, associate professor of Judaic Studies and History at Brown. Chloe was also accepted to the Mellon Initiative, a program for undergraduates interested in pursuing doctoral study in the humanities and social sciences. She's also being considered for similar fellowships at Harvard and NYU.
The Leadership Alliance Summer Research-Early Identification Program Brown University provides nine-week summer research opportunities for outstanding undergraduates interested in exploring the nature of advanced graduate school study. The program was created to develop underrepresented students into outstanding leaders and role models in academia, business, and the public sector.
That's quite an accomplishment!
Related Stories