President Helen Giles-Gee Moving on to New Opportunities after Seven Years at Keene State College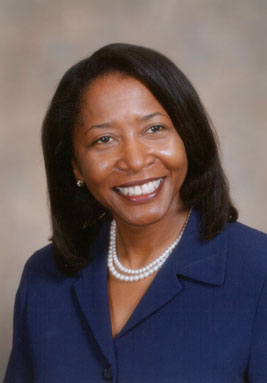 Keene, NH, March 19, 2012: After seven years as president of Keene State College, Dr. Helen Giles-Gee is leaving to become the twenty-second president of University of the Sciences in Philadelphia. She will conclude her tenure at Keene State College in July 2012, at which time an interim president will assume her role until a permanent replacement is found. Keene State College leadership will work closely with the University System of New Hampshire (USNH) Board of Trustees and the Chancellor's Office to ensure a smooth transition.
President Giles-Gee stated, "I am very proud of the achievements of the faculty, staff and administrators at Keene State College occurring during my time as President. The College has always possessed a strong foundation based on its history as a normal school. Now Keene State College has made its mark as a premier liberal arts college, the only public one in New Hampshire."
USNH Chancellor Ed MacKay added, "President Giles-Gee leaves a college that has excelled on every front in achieving its distinctive mission and is poised for continued success. The institution has grown in reputation and quality under her leadership and we are indebted to Helen for her tireless service and contributions. Helen is a highly respected leader in the higher education community, and I know many colleagues across the state and country share my appreciation for the scope and depth of her engagement."
On behalf of the University System Board of Trustees, Chairman Edward Dupont released the following statement: "The Board offers their sincerest thanks to President Giles-Gee for the deep professional and personal commitment she has made to Keene State College, the City of Keene, and the State of New Hampshire. During her time at Keene State College, she has been an inspirational leader who has gained the respect of all who have had the opportunity to work with her. We wish her the very best in her new role."
The Board leadership will be meeting with members of the Keene State College community on March 30th regarding the transition of leadership at the college and plans to regularly engage the Keene community in this process.
During Giles-Gee's presidency, the College's dedicated faculty, staff and students have achieved many notable recognitions. For example:
U.S. News & World Report ranked Keene State as one of the top schools in the North for two years in a row and one of 30 colleges that offer small classes on an affordable budget.

The Princeton Review, in collaboration with the U.S. Green Building Council, named Keene State College a "Green College" denoting it as "one of the country's most environmentally responsible schools."

Keene State College is one of only two postsecondary institutions (Nashua Community College) in New Hampshire to be listed on the President's Honor Roll for Service with Distinction. Keene State has been recognized with distinction for three consecutive years.

The North East Affiliate of College and University Residence Halls' School of the Year award recognized Keene State College for its outstanding achievements within its Residence Hall Organization on campus on both regional and national levels for 2011-2012. Keene State is being considered for the national award as "School of the Year."

The New Hampshire Health and Human Services' Employment Leadership Award was presented to Keene State College and four other employers for adopting hiring practices that improve employment opportunities for workers with disabilities in New Hampshire.

The Society for College and University Planning's Northeast region honored Keene State College by selecting the College for its annual one-day review, which focused on its integrative planning for more than 150 higher education leaders. As a result, Keene State College has been recommended by others to be considered for the "Institution of the Year award" which will be determined later in 2012.
As a result of hard work and dedication from Keene State faculty and staff, the College has achieved several major academic and programmatic milestones during the past several years, including:
The College achieved its highest ever enrollment in fall 2011 - new students credited the academic programs as the reason for selecting Keene State College.

Since 2005, the faculty has developed new majors in Architecture, Political Science, Environmental Studies, Nursing, Sustainable Project Design and Innovation, Holocaust and Genocide Studies, and a Master's degree program in Occupational Health and Safety Studies.

The faculty revised the general education program to deliberately imbed the knowledge and abilities necessary for a global world: quantitative literacy, writing, critical thinking, teamwork, application of theory through practice. This innovative general education program was recognized by the Association of American Colleges and Universities.

Keene State has taken a leadership role in the Regional Center for Advanced Manufacturing (RCAM), which joins Keene State with SAU 29, River Valley Community College and the Greater Keene Chamber of Commerce to educate potential employees for the region's 70 manufacturers. RCAM has already developed signature certificate programs educating new students for manufacturing jobs.

External grants have increased to more than two million dollars per year, as has faculty/student undergraduate research.
Facilities and buildings have improved.
Two new residence halls have been built, one that is LEED Silver certified. The oldest residence halls have been refurbished.

The historic President's house has undergone revitalization with the help of many Keene vendors and Giles-Gee herself to preserve its quality and to ensure the house is ready for campus and community.

A new Alumni Center was built, and a new Technology Design and Safety building will open in fall of 2012.
College leadership has grown and strengthened.
Giles-Gee acquired the position of provost for the campus from the Board of Trustees and brought in Dr. Emile Netzhammer to serve as the College's first chief academic officer in this role.

She formed an Advancement Division and hired Maryann Lindberg to serve as its first Vice President of Advancement. Under the leadership of Lindberg and with the support of the board of trustees, all areas of giving to Keene State have increased. As Interim Vice President for Advancement, Giles-Gee raised funds for two endowed chairs the Cohen Chair in Holocaust and Genocide Studies and the Putnam Chair in Chemistry, which further distinguished the academic program at Keene State. Giles-Gee also began an endowed scholarship for Operating Staff, which became fully supported by staff and saw its first student scholarship awarded in fall 2012. She charged the development of a college-wide honors program, which is thriving and brought in merit scholarships from the William T. Morris Foundation.
Keene State athletics have flourished.
Keene State College has won the Little East Conference Commissioner's Cup 11 years in a row.

Last year, the Athletic program brought home the trophy for attaining the highest overall GPA within the Little East Conference.
Keene State has continued strong relationships with surrounding communities.
Giles-Gee continued a tradition started by former President Yarosewick of closely working with the city of Keene and surrounding regions to include the community in the life of the Keene State College campus.

Giles-Gee has served as past chair of the New Hampshire Postsecondary Education Commission, and vice chair of the New Hampshire Council of Colleges and Universities. She is vice chair of New Hampshire Campus Compact, which includes all public and private two- and four-year post-secondary institutions in New Hampshire. She is also vice chair of the Board of Directors of New Hampshire Charitable Foundation and a member of its Nominating Committee.

Nationally, Giles-Gee has just completed the elected position as chair of the American Association College and Universities - a top academic association made of 1,200 institutional members - as well as membership on the American Association of State Colleges and Universities (AASCU) Commission on Presidential Leadership and Global Competitiveness and Millennium Leadership Institute.
Giles-Gee concluded, "I came to Keene State College to help achieve its goals. I leave believing that the College has met all of its objectives and more. I feel honored to have been asked to serve as its president during this wonderful and transformative time. The College is truly an asset for Keene, the Monadnock region, the state and the nation. Keene State College is a tremendous institution with dedicated and talented faculty and staff. I will always treasure my time here."
About Keene State College
Keene State College is a preeminent public liberal arts college that ensures student access to world-class academic programs. Integrating academics with real-world application and active community and civic engagement, Keene State College prepares graduates to meet society's challenges by thinking critically, acting creatively, and serving the greater good. To learn more about Keene State College, visit www.keene.edu.
Keene State College: Wisdom to make a difference.
Related Stories