Five-Minute Film Festival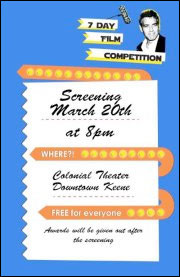 The challenge: Take a given prop and line of dialogue, and a genre (assigned at random), and then create, shoot, and edit a five-minute film - in one week. Toughness - but, the results are in! Get yourself to the Colonial Theater in downtown Keene at 8 pm on Tuesday, March 20, for the premiere screening of these films. Meet the the teams that created them. You'll get to see all of the films, followed by the judging and announcement of awards!
Doors open at 7:30. Get there early to receive a free 7 Day Film Competition t-shirt!
Related Stories