Provost Emile Netzhammer Leaving Keene State College to Serve as Chancellor at Washington State University Vancouver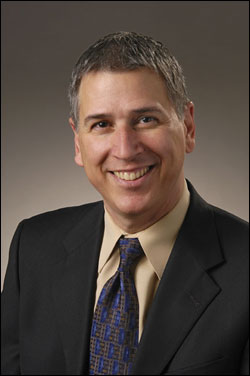 Keene, NH, March 12, 2012: Keene State College Provost, Emile Netzhammer, announced today that he will leave the College to accept an appointment as Chancellor of Washington State University Vancouver. He will remain at Keene State until June 30, at which time he will end his six years as Provost. Keene State leadership will work closely with University System of New Hampshire (USNH) Board of Trustees and Chancellor's Office to ensure a smooth and timely transition.
"During his time at Keene State, Provost Netzhammer fundamentally changed the academic programs in such a way that the college and its current students already benefit, and those to come will have access to world-class programs. We wish him all the best in his new endeavors, and recognize his commitment, hard work and success here at Keene State," said Keene State College President, Helen Giles-Gee.
"I continue to be amazed by the quality of work and dedication I have experienced during my time at Keene State. I have been honored to lead Academic Affairs during a time of great change as we strengthened the academic program - students who are educated at Keene State are truly prepared for successful careers and meaningful lives. A great number of achievements came to life because of the hard work of the faculty and staff. I will remember my experience at Keene State fondly, and with pride," said Netzhammer.
"As Keene State's first provost, Mel has made significant contributions to the institution. His work on integrating academic technology, efforts to transition to the new general education requirement and four-credit model and focus on student learning outcomes has made a real and meaningful difference in academics at the college," said USNH Chancellor Ed MacKay. "We will be working with the Keene community in the near term to help them address the changes in leadership that will occur at the college in the coming months and ensure that they are engaged in the process."
Many academic accomplishments were achieved during Netzhammer's tenure as Keene State College Provost:
The College achieved its highest ever enrollment in fall 2011.
New majors in Architecture, Political Science, Environmental Studies, Nursing, Sustainable Project Design and Innovation, Holocaust and Genocide Studies, and a Master's degree program in Occupational Health and Safety Studies were developed at Keene State.
Undergraduate research became a top academic priority.
The College became a national leader in the American Democracy Project.
Faculty developed a new general education program - this includes quantitative literacy, writing, critical thinking, teamwork and application of theory through practice, which has been named an exemplar program by the Association of American Colleges and Universities.
Keene State has taken a leadership role in Regional Center for Advanced Manufacturing (RCAM). The program joins Keene State with SAU 29, River Valley Community College and the Greater Keene Chamber of Commerce to educate potential employees for the region's 70 manufacturers.
"Keene State is well positioned to continue to grow its academics and provide students with what they need to be successful in the years to come. I feel fortunate to have been part of something much larger - and to help continue the legacy that Keene State carries. Keene State College is an example of the best that public higher education has to offer," concluded Netzhammer.
About Keene State College
Keene State College is a preeminent public liberal arts college that ensures student access to world-class academic programs. Integrating academics with real-world application and active community and civic engagement, Keene State College prepares graduates to meet society's challenges by thinking critically, acting creatively, and serving the greater good. To learn more about Keene State College, visit www.keene.edu.
Keene State College: Wisdom to make a difference.
Related Stories