Keene State Claims Presidents Cup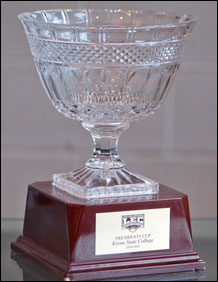 NORTH DARTMOUTH, Mass. - Keene State College is the top academic institution in the Little East Conference, according to the 2010-11 Presidents Cup standings released by the conference office this afternoon. The Owls sported a cumulative grade point average of 3.06 to outdistance themselves from Eastern Connecticut State University (2.96).
"It is a remarkable achievement that Keene State College has garnered the Commissioners Cup and Presidents Cup in the same academic year," said Commissioner Jonathan C. Harper. "This is a rare accomplishment in this day in age to have one institution achieve a conference's highest honors in both athletic and academic prowess. I believe that this accomplishment is a great example of the Division III model of celebrating the student-athlete."
"The Little East Conference boasts a high level of competition in Division III. To that end, I have been pleased that Keene State College has won eleven consecutive Commissioner's Cups recognizing the extraordinary level of athletic prowess of our teams and athletes," said Keene State President Helen Giles-Gee. "Winning the President's Cup for the institution in the LEC with the highest student athlete GPA further recognizes scholastic expectations of Division III sports by acknowledging that our athletes are also students who are expected to excel in their academic pursuits as well as at play."
"Winning the President's Cup is an outstanding achievement," said KSC Director of Athletics John Ratliff. "The program's ability to maintain a high standard in the classroom as well as sustain a high level of athletic accomplishment over an extended period is a tribute to our coaches and student athletes."
The Presidents Cup trophy measures the highest cumulative grade point average of all institutions in the Little East Conference. Each athletic department calculates its student-athletes cumulative grade point average in the conference's 19 championship sponsored sports. Plymouth State University (2.91), University of Massachusetts Dartmouth (2.85), and Western Connecticut State University (2.85) complete the top-half of the 2010-11 Little East Presidents Cup standings.
Under the guidance of Ratliff, the Keene State athletic department has become a model for Division III athletics as the Owls have displayed their strong tradition of academics and athletic competition during the 2010-11 academic year. Keene State has captured the past 11 Little East Commissioners' Cup as the top overall athletic department in the conference circuit, while adding the top overall academic award to its trophy case this year. Three Owl student-athletes were bestowed with national and regional academic awards during the 2010-11 academic year. Senior Tim Pipp (Keene, N.H.) was recognized on the 2011 U.S. Track & Field and Cross Country Coaches' Association All- Academic Cross Country Team, earning the honor by posting a 3.30 cumulative grade point average and placing within the top-35 at the NCAA Regional Championship. Senior Katie Bradford (Lebanon, N.H.) was named to the ESPN Academic All-District Women's Soccer Team, while junior Haley Chandler (Wakefield, Mass.) was selected to the Capital One Academic All-District Softball Team. Furthermore, the Keene State field hockey team earned a spot on the National Field Hockey Coaches' Association National Academic Team after boasting a team cumulative grade point average of 3.10 and the women's soccer team had a 3.56 combined GPA for fall 2010 and spring 2011,ranking them second-best in New England behind MIT.
The Owls were well-represented on the 2010-11 All-Little East Academic Teams with a total of 75 honorees. The Keene State women's indoor track and field team (10) and women's soccer teams (8) set the standard among its 16-conference sponsored sports.
Related Stories