Everett Brings Mind-Bending Journey to Keene State's Redfern Arts Center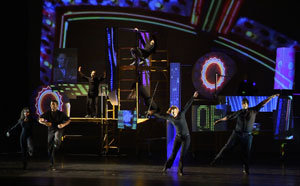 KEENE, N.H., 3/7/12 - Critically acclaimed Everett Company takes audiences on a mind-bending journey into the human brain in Brain Storm, an innovative multi-media performance to be presented Wednesday, March 28, at 7:30 p.m. at the Redfern Arts Center at Keene State College. Brain Storm features compelling stories from people with brain injuries and blends them with poetic and visual imagery to explore the complexities of the human brain in all its beauty and mystery.
The work is based on interviews with leading neuroscientists and a two-year residency at Crotched Mountain, an educational and treatment facility for people with brain injuries in Greenfield, N.H. Brain Storm examines new developments in brain research, including the ability to map the spectrum of human emotions, beliefs, and tendencies. The New York Times called Everett's work "an astonishingly seamless blend of words, video, set elements and dance."
Everett Artistic Director Dorothy Jungels will visit with patrons in the lobby at 6:30 p.m. prior to the March 28 performance. Light refreshments will be served. The troupe will remain after the performance for a panel discussion with Keene State students with learning disabilities. The panel will include Keene State Neuropsychology Professor Karen Jennings, Don Shumway, president and CEO of Crotched Mountain, and others. Redfern Director Shannon Mayers will moderate the discussion.
Get a sneak peek at what informs the performance, by attending an Everett Brain Café on attention-deficit hyperactivity disorder (ADHD) on Tuesday, March 27, at 6:30 p.m. in the Night Owl Café in the Keene State Young Student Center. The theatrical program delves into the history of ADHD and the methods devised by people, including an Everett artist, to compensate for the disorder. Jennings will give an overview of ADHD and talk about the issues around diagnoses and management. Students will participate in the Brain Café including those involved in the Keene State Project Eye-to-Eye program which enables college students with learning disabilities to mentor elementary pupils from Franklin and Jonathan Daniels schools in Keene. The Brain Café is free and open to the public.
Tickets for the performance range from $35 for adults to $15 for children. To order tickets and for more information, contact the Box Office at 603-358-2168 or visit www.keene.edu/racbp
Everett's performance at Keene State is funded in part by the New England States Touring program of the New England Foundation for the Arts, made possible with funding from the National Endowment for the Arts Touring Program and the six New England state arts agencies.
About Redfern Arts Center on Brickyard Pond 30th Anniversary
The Arts Center is named in honor of Dr. Leo F. Redfern, Keene State College (KSC) President from 1969 to 1979 for his vision, commitment, and eloquence on behalf of the arts that made funding and construction of the facility a reality. In 1981, KSC inaugurated this new performing arts center, with the goal of providing unforgettable artistic encounters for the campus and community. Since then, the Redfern stage has hosted hundreds of amazing shows, from internationally renowned artists to emerging young talents to KSC's own student performers.
Over the years, the Redfern has expanded its outreach programs and community partnerships, becoming an indispensible resource for the Keene community and beyond. An exhibit celebrating the Art Center's 30th anniversary is currently on display in the Redfern lobby. The exhibit includes articles and photos of the ground breaking and construction of the Arts Center as well as posters and photographs of performances through the years by the Music, Theater and Dance, and Art departments.
About Keene State College
Keene State College is a preeminent public liberal arts college that ensures student access to world-class academic programs. Integrating academics with real-world application and active community and civic engagement, Keene State College prepares graduates to meet society's challenges by thinking critically, acting creatively, and serving the greater good. To learn more about Keene State College, visit www.keene.edu.
Keene State College: Wisdom to make a difference.
Related Stories