Professor Ferrucci Awarded for Excellence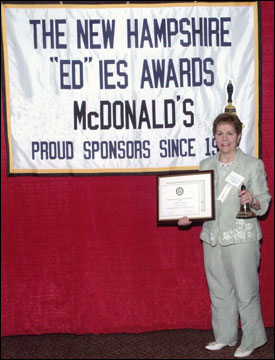 Dr. Beverly J. Ferrucci, professor of Mathematics, was recently recognized at a special plaque presentation honoring New Hampshire's outstanding educators and schools at the State Department of Education. Dr. Ferrucci was selected by the New Hampshire College and University Council as the recipient of the 2011 New Hampshire Excellence in Education Award for Teaching Excellence at the Postsecondary Level. The New Hampshire Excellence in Education awards program recognizes New Hampshire schools and individuals who meet high standards of excellence. Dr. Ferrucci's award particularly recognized her research in ethnomathematics, the study of how other cultures learn and use mathematics, and her efforts to promote and encourage women to pursue careers in the mathematical sciences.
Dr. Ferrucci has received numerous awards, honors, and recognition during her career. She was the recipient of Keene State College's Outstanding Woman of New Hampshire Award in 2003, Faculty Award for Distinction in Research and Scholarship in 2004, and Distinguished Teacher Award in 2010. In 2011 Dr. Ferrucci received the Richard C. Evans Distinguished Mathematics Educator Award from the New Hampshire Teachers of Mathematics.
In addition, she has served as the president of the New England Educational Research Organization, president of the Association of Teachers of Mathematics in New England, and president of the New Hampshire Teachers of Mathematics. Dr. Ferrucci is also the first female editor of the New England Mathematics Journal, one of the most prominent publications for mathematicians and mathematics educators in the United States.
Related Stories