Anthony Bishop '94 Directs Superbowl Halftime Show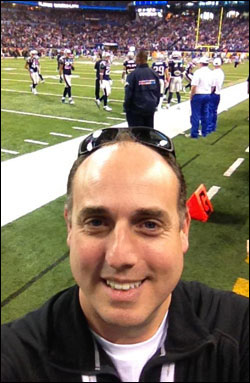 Just last month, KSC Newsline carried a story about Anthony Bishop '94, the art director for the new NBC game show Who's Still Standing? By the time that story ran, Anthony was already moving onto bigger things. He was the art director for Madonna's stunning halftime show at Superbowl LXVI, as well as for the Pregame and Tailgate Party featuring Lenny Kravitz and the Fray.
"Just what does the art director do?" you might ask.
"It is my responsibility to carry out the production designer's vision by way of renderings and technical drafting that communicate the design to the artist, the client, the team, and the vendors who fabricate all the pieces of the puzzle," Anthony explained. "I also have to manage the vendors as they build the design, often via phone, as changes from the client continue to trickle in until we get on camera. Next there is the onsite scope, the 'load in,' where I oversee all the pieces of the puzzle and coordinate communication between each vendor as we all work together in what is typically a 10-day process from delivery to show day. However, the Superbowl was a four-week process, since a football stadium is not our typical venue. Ultimately, I oversee the production's overall artistic look on camera and am responsible for problem solving when something we designed doesn't work."
Anthony came to KSC as a theater major because he always knew he wanted to be a set designer. "However, the program also taught me all the other aspects of what it truly takes to put together a show and wear those many hats," Anthony said. "Theater is an essential background for any career in arts and entertainment. It teaches you every aspect of how to accomplish anything. I might be the set designer 99% of the time, but every year, without fail, I have to fix a stitching on a costume or help focus a light. Celine Perron and Edith Notman, as well as the rest of the faculty, took me under their wing and opened my eyes to a world of possibility."
What's next? "I'm currently working on production designing a remote set for Live with Kelly on ABC," Anthony said. "It will be shot live in Banff (Canada) in the beginning of April. Later that month I will return for my third season as the art director of Family Feud in Atlanta.
Check out Anthony's impressive website.
Related Stories