Huynh Seizes Opportunities at Keene State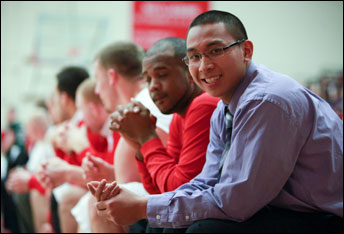 KEENE, N.H. 2/23/12 - It's hard to miss Hung Huynh sitting on the bench at Keene State College men's basketball games. Unlike the players beside him, Huynh doesn't wear a uniform, but that doesn't mean he's not a big part of the team. Dapper in a shirt and tie, and wearing a smile as wide and bright as the new Owl logo that adorns center court, Huynh, a sophomore from Manchester, N.H., takes his job as the Owls' team manager seriously.
While others might find his job of laying out uniforms before the game, running assorted errands, or running the clock at practices tedious and boring, Huynh looks at it as an honor. "It doesn't feel like a job to me. I love what I do," he said. "I'm so thankful."
Thankful is a word that Huynh doesn't take for granted. Born in Da Nang, Vietnam, Huynh and his family moved to Manchester when he was two. Not surprisingly, Huynh remembers the exact date: June 2, 1992. While his father, Lanh, and his mother, Thuan, have tried to make a better life for their family, it hasn't been easy. The difficulty of acclimating to a new life in a new country, compounded with health issues, put a tremendous strain on the family. Over the years, his father has struggled to find a job and put food on the table for Hung and his three brothers. Huynh said his father is a proud man, and his inability to support his family made for a tough upbringing. "We lived week to week, not knowing what the future would bring," he said.
Hung's father had to deal not only with the future, but also the past. His parents not only left large families behind in Vietnam, but also horrific memories. Hung said his father only tells him bits and pieces about his past. Even to this day, tears well up when Hung tells the story about his father, a general in the South Vietnamese Army, who was captured and held as a prisoner for 10 years. "Each day, he was only given bread and water and a bowl of rice," said Huynh, holding out the palm of his hand.
"I believe my father has been the biggest influence in my life," Huynh said. "My mother and father made me who I am. They made so many sacrifices. When I go home to see them, it makes me so happy." Hung knew that going to college and making something of himself would make his father happy. Drawing strength from his family, Huynh graduated from Manchester Memorial and enrolled at Keene State.
Huynh got his job with the basketball team by accident. Looking for a job on campus, Huynh went to see Kevin Justice, the Owls' assistant coach and head of the multicultural program. Justice referred him Gino Vallante, who runs the Night Owl Café. When no job was available, Vallante suggested he'd consider taking a job as the men's basketball team manger. "I hesitated a little bit because it was definitely different and a little out of my comfort zone, but it turned out great," said Huynh. "I love it."
Not everyone has the credentials for the job. Reliability is a must, and the ability to deal with a varied schedule and ever-changing job description is strongly suggested.
"When I met Hung, he seemed to be a meek and quiet young man, but he is very interested and trustworthy and able to whatever we need," said KSC Coach Rob Colbert. "He has never disappointed us."
"Once we tell him what we need to get done, I never have to remind him. And he often reminds me," Colbert added. "He knocks on the door a half hour before practice every day and gets everything set up. He's just so reliable." "He's here at the gym before the majority of us are here, even during early pre- season practices," said Justice. "I get in here at 4:30 in the morning, and he's here before me."
"Coach Colbert jokingly kids around with him, giving him a hard time and telling him he's going to get fired," said a smiling Justice. "But he works so hard and does everything you ask and more. He comes from a humble background, but I tell you what, you wouldn't know it when you meet the kid, he's just a wonderful, enthusiastic, and positive person." "I gave him a T-shirt once, and you would have thought I gave him a thousand dollars because it said Keene State basketball," said Colbert. "He doesn't come from having a lot, so everything is a bonus."
Appreciative for everything Huynh has done for his team and program, Colbert didn't think twice when financial difficulties almost prevented Huynh from returning to school this semester. "You could see the tears in his eyes and it really broke my heart," said Colbert. The coach stepped forward to help Hung out.
Colbert called the school's financial aid office to see if anything could be done. After learning about his background and what was going on in his family, the office found an alternative and was able keep him enrolled. "His reaction to that situation is probably one of the top two or three moments of my career at Keene State," said Colbert. "He was so appreciative. It was like the weight of the world getting lifted off his shoulders." "I can't explain the feeling when I found out," said Huynh. "I can't put it into words. I'm just so thankful to Coach Colbert for helping me out."
Huynh's jovial personality and attention to detail has also made him a big fan of the Keene State players. He's developed a close friendship with junior Ryan Martin, often staying after practice to rebound for him. "He helps me become a better man every day," said Huynh. "I've never seen anyone work harder than him."
"I can't really explain the connection, but we both hit it off," said Martin. "Everybody respects him a lot because he takes his job seriously and goes above and beyond everything you ask of him."
Even though it's two years away, Huynh, a health promotion and fitness major, dreams about the day when he receives his degree. "I'm going to feel overwhelmed with joy and happiness to see that diploma in my hand," Huynh said. "To see the look on the face of my father and mother and know that I did it would be my greatest accomplishment."
Related Stories