Play To Be Dedicated To Keene State Theatre Student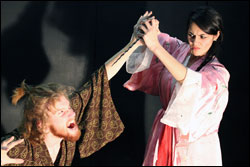 KEENE, N.H., 2/24/2012 - The play Rashomon will be dedicated to Keene State College student Jacob Messersmith, who was found deceased on Mount Monadnock on Tuesday, February 21. Messersmith, a senior majoring in theatre arts from Alexandria, N.H., was a cast member in the play.
"Jake Messersmith was a beloved friend," said KSC theatre faculty member PeggyRae Johnson, director of Rashomon. "After careful consideration, the cast and crew of Rashomon decided they would best honor Jake's memory and achievements by producing the play as scheduled and dedicating the production to his memory. This was not an easy decision; rather it was made with the collaborative efforts of all involved."
"The theme of the play is the search for truth, but the storyline leads to the discovery of hope and life which exists even in ruin. We wish to honor Jake's life with this message of hope," said Johnson.
Finding someone to play his role in such a short time was another difficult decision. A 2003 Theatre and Dance alumnus, Will Howell agreed to assume the role.
Rashomon will be staged at 7:30 p.m. from Tuesday, February 28 to Saturday, March 3 in the Wright Theatre of the Redfern Arts Center on the KSC campus. The 2 p.m. Saturday, March 3 performance will be canceled in order to allow cast members to regroup after attending Messersmith's wake.
After Wednesday night's performance there will be a talk-back about "truth" with Irina Leimbacher, a KSC film studies faculty member. Tickets are $10 for adults, $8 for senior citizens and youth, and $6 for Keene State students. For tickets, call the Box Office at 603-358-2168 or visit www.keene.edu/racbp.
Related Stories