Keene State Theatre Stages Japanese Murder Mystery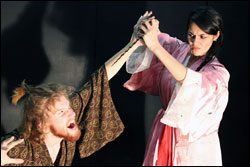 KEENE, N.H., 2/10/2012 - An ancient Japanese murder mystery will receive a fresh hearing when the Keene State Theatre and Dance Department stages Rashomon by Fay and Michael Kanin at the Redfern Arts Center on Brickyard Pond. The play, directed by Keene State faculty member PeggyRae Johnson, explores four different viewpoints about the death of a samurai warrior and the rape of his wife. Based on a 1950 film directed by Akira Kurosawa, which received an Academy Award for best foreign film, the play opens as a priest, a woodcutter, and a wigmaker take refuge from a rainstorm in the remains of the Rashomon gatehouse. They begin recounting the trial of a bandit who allegedly attacked the samurai and his wife.
The beguiling mystery involving multiple versions of the truth will be staged at 7:30 p.m. from Tuesday, February 28 to Friday, March 2, with 2 p.m. and 7:30 p.m. shows on Saturday, March 3, in the Wright Theatre. Tickets are $10 for adults, $8 for senior citizens and youth, and $6 for Keene State students. For tickets, call the Box Office at 603-358-2168 or visit www.keene.edu/racbp.
"Each person has a different perspective on the truth," says Johnson, who chose the play after hearing students discuss whether reality television relationships were real. "They seemed to have two-dimensional thinking, either it's a red state or a blue state; there was very little discussion of the variables in trying to define the truth."
The themes of perspective and truth emerge in Rashomon, which is based on legendary Japanese folktales set in the feudal Muromachi era, 1380 to 1570. This era is reflected in the stage set and costumes. The stage set, designed by Keene State Alumni Matt Barry, shows three different worlds, only one of which is real, the Rashomon Gate. The world of the forest and the trial court are recalled by the storytellers.
A professional stage choreographer provided a workshop for students to learn about theatrical samurai sword fighting, an unusual learning experience in New England. The workshop was funded in part by a grant from the Keene State College Campus Commission on Diversity and Multiculturalism.
The play also presents a challenge for student sound designer Ben Montmagny of Grantham, N.H., because the sound had to provide an atmosphere for silence.
Keene State faculty members Jenny Fulton designed the period costumes, Craig Lindsay designed the lights, and Doug Wilcox is the assistant director.
Keene State College students in the cast are Gary Beisaw of Shrewsbury, Mass, as the deputy; Dan Bullard of Bangor, Maine, as the samurai warrior; Arielle Diaz of Trumbull, Conn., as the wife; Matt McDougal of Keene, N.H., as the bandit; Ryan Ouellette of Milford, N.H., as the woodcutter; Allison Lee Relihan of Wakefield, Mass., as the wigmaker; Nikki White of Cornish N.H. as the medium; and Sarah Wolff of Oakland, N.J. as the mother
Matt Kohler of Marstons Mills, Mass, is stage manager. Jill Strazzere of Wilmington Mass. and Kenny Hadley of Newfields, N.H. are the assistant stage managers. Ashley Simeone of Richmond, N.H. is the dramaturg, and Chelsea Tuffy of Plymouth, Mass. is the publicity assistant.
About Keene State Theatre and Dance Department
The Department of Theatre and Dance is dedicated to providing a comprehensive course of study that balances theory and practice within a sound liberal arts education. The collaborative nature of theatre and dance disciplines fosters an atmosphere in which students work closely with peers and faculty to gain practical experience in all facets or production and critical engagement. As artists and teachers, our primary focus is to encourage and guide our students as they find their creative voices and experience and question the world through the arts. For more information about the Theatre and Dance Department, visit http://academics.keene.edu/tad or call 603-358-2162.
About Keene State College
Keene State College is a preeminent public liberal arts college that ensures student access to world-class academic programs. Integrating academics with real-world application and active community and civic engagement, Keene State College prepares graduates to meet society's challenges by thinking critically, acting creatively, and serving the greater good. To learn more about Keene State College, visit www.keene.edu.
Keene State College: Wisdom to make a difference.
Related Stories