Gripping Story of Survival in the Antarctic Recreated at KSC's Redfern Arts Center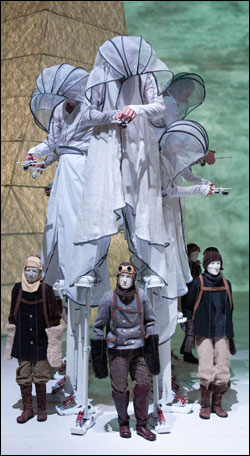 KEENE, N.H., 1/27/2012 - Legendary explorer Ernest Shackleton's gripping tale of survival in the Antarctic will be recreated in a stunning theatrical performance at the Redfern Arts Center at Keene State College. The Phantom Limb Company will perform 69° South: The Shackleton Project on Wednesday, February 15, at 7:30 p.m. in the Redfern's Main Theatre. Tickets range from $15 to $35 and can be purchased by calling the Box Office, 603-358-2168 or ordering online at www.keene.edu/racbp.
Fresh from a successful run in New York, Phantom Limb Company brings Shackleton's journey to life in an evocative vision of the Antarctic that incorporates puppetry, dance, scenic effects, projections and music. Featuring a haunting score by the award-winning Kronos Quartet, 69° South conjures up an unforgettable world of ice and darkness, where the only force stronger than the elements is the endurance of the human spirit.
"It's a hypnotic, overwhelming performance, that will leave you feeling vaguely unsettled-in a good way," according to a review in Gothamist, a daily weblog covering New York City.
69°S is the latitude at which Shackleton's ship, The Endurance, sank during his Antarctic journey. In many respects this would have been considered a failed endeavor but historically this expedition resonates as a triumph of spirit, camaraderie and leadership. In stark contrast to his competitors, Shackleton made a crucial choice to abort his expedition to be the first to cross the continent and chose instead to save the lives of his men.
It is this choice that drew Phantom Limb co-Artistic Directors, Erik Sanko and Jessica Grindstaff, to create this gorgeous piece of theatre with a team of contemporary musical, visual and performance artists. With a National Science Foundation grant, the artists took their own journey to Antarctica and recorded the sounds of ice cracking, wind blowing, and animals. This soundscape served as inspiration for the 69° South score.
The visual evocation of the South Pole's forbidding beauty and the expedition's courageous survivors, will be duplicated in a photography exhibit to be displayed in the Redfern Arts Center lobby February 7 to 29.
Members of the Phantom Limb Company will be available for a 6 p.m. Meet and Greet reception with the audience prior to the February 15 performance and will stay after the show for a question and answer session. Earlier that day, a panel discussion by Phantom Limb Company and KSC faculty members, will explore research into the history of Shackleton's journey to Antarctica and what's been learned about the Antarctic continent's environment and geography.
Phantom Limb's performance at Keene State is funded in part by Peerless Insurance and the Expeditions program of the New England Foundation for the Arts, made possible with funding from the National Endowment for the Arts, with additional support from the six New England state arts agencies.
About Redfern Arts Center on Brickyard Pond 30th Anniversary
The Arts Center is named in honor of Dr. Leo F. Redfern, Keene State College President from 1969 to 1979 for his vision, commitment, and eloquence on behalf of the arts that made funding and construction of the facility a reality. In 1981, KSC inaugurated this new performing arts center, with the goal of providing unforgettable artistic encounters for the campus and community. Since then, the Redfern stage has hosted hundreds of amazing shows, from internationally renowned artists to emerging young talents to KSC's own student performers.
Over the years, the Redfern has expanded its outreach programs and community partnerships, becoming an indispensible resource for the Keene community and beyond. An exhibit celebrating the Art Center's 30th anniversary is currently on display in the Redfern lobby through February 3. The exhibit includes articles and photos of the ground breaking and construction of the Arts Center as well as posters and photographs of performances through the years by the Music, Theater and Dance, and Art departments. Visit www.keene.edu/racbp for more information on the season and to purchase tickets.
About Keene State College
Keene State College is a preeminent public liberal arts college that ensures student access to world-class academic programs. Integrating academics with real-world application and active community and civic engagement, Keene State College prepares graduates to meet society's challenges by thinking critically, acting creatively, and serving the greater good. To learn more about Keene State College, visit www.keene.edu.
Keene State College: Wisdom to make a difference.
Related Stories