In Memoriam: Professor Kristi Alvarez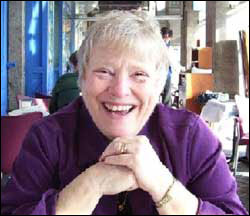 Following a brave fight against cancer, former Associate Professor of Geography Kristin J. Alvarez died peacefully in her sleep. Prof. Alvarez started teaching at KSC in the fall of 1999, earning a reputation as an excellent geography teacher and a leader in social science education, committed to broadening the geography education experience for students. She was also recognized for her integrity, work ethic, and indomitable spirit.
Dr. Alvarez left Keene State College in 2009 when she was offered a signature opportunity at the University of Redlands in California that allowed her to work with a local school district and a brand new high school to infuse geospatial technologies and spatial thinking into the curriculum.
Dr. Alvarez and her family maintained a Caring Bridge page for her. Enter kristinalvarez in the "Visit a Site" box.
Related Stories