Memorial Service for Adrian "Andy" Desmarais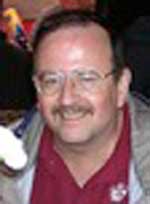 The Keene State College community is invited to attend a memorial service honoring Adrian "Andy" Desmarais who passed away last week at age 58.
Andy Desmarais began working at Keene State College in September of 1984, supporting Physical Plant and serving as the voice of the department for many years. He came to KSC with an Associate's Degree in Business Administration and Management from New Hampshire College and a diverse background in accounts payable, purchasing, payroll, bookkeeping, and finance.
With close attention to detail, Andy prided himself on being "accurate and reliable." His colleagues also knew him as dependable, committed, and persistent.
KSC also benefited from Andy's spirit and energy. He facilitated fantasy football and baseball leagues for over 20 years and offered trivia-of-the-week quizzes for friends and colleagues.
Andy participated in various events to support and encourage students and staff alike, and he was a dedicated fan of Keene State athletics.
The service will be held at the Emmanuel Baptist Church in Swanzey on Thursday, January 19, at 7 p.m.; Pastor Roger Maxwell presiding.
Emmanuel Baptist Church is located on Route 32, just after the Keene Airport entrance.
Related Stories