Students to Jamaica in January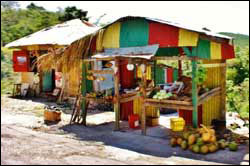 A group of KSC students are headed to Petersfield, Jamaica, for 10 days, to serve and learn with the Amizade Global Service- Learning and Volunteer Programs' community partners in the island nation.
Amizade's community-driven service model cooperates with communities on service that local individuals and organizations define and direct. They cooperate on identifying the important issues and work collaboratively on project implementation, continuous evaluation, and regular improvements.
The students spent weeks preparing for the adventure. They got to know each other and learned what was expected of them as volunteers, travel and safety tips, and the history and culture of Jamaica. They also learned why they were going, which included a shared reading program, focused around Start Something that Matters by Blake Mycoskie. This powerful book has provided a sort of rallying cry for the students, showcasing the ability of individuals to make a difference and change the world.
The students will stay with local families in the Petersfield community and work with local primary schools. The students can participate in local community meetings and celebrations, learn more about the history and culture of Jamaica, and visit a variety of other communities and sites.
Related Stories