Math and Sexism Collide in One-Woman Comedy at KSC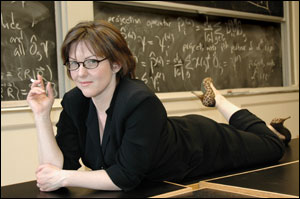 KEENE, N.H., 1/5/2012 - Continuing its 30th anniversary season, the Redfern Arts Center at Keene State College (KSC) will present a hilarious solo show in which algorithms and sexism collide. Truth Values: One Girl's Romp Through MIT's Male Math Maze will be performed on Thursday, February 2, at 7:30 p.m. Inspired by the actual experiences of actress-playwright and recovering mathematician Gioia De Cari, this comical one-woman play follows De Cari's misadventures as a female PhD candidate in the elite boys club of the Massachusetts Institute of Technology's math department in the 1980s.
Fresh from a sold out performance at New York City's 2011 All For One Theater Festival, Truth Values has earned raves from critics and stirred audiences to standing ovations. "De Cari is an earnest performer and a snappy writer… sincere and entertaining… quick and passionate… she's an ace at taking on the story's 30-odd characters," according to a Boston Herald reviewer.
"It's not only about women in math and the stereotypes that they experience, but it's also about taking something you love and channeling it. You don't need to be a math student to understand this," said Redfern Arts Center Director Shannon R. Mayers.
Created as a response to former Harvard University President Lawrence Summers' now infamous suggestion that women are less represented than men in the sciences because of innate gender differences, Truth Values offers a humorous, scathing, insightful, and ultimately uplifting look at the challenges of being a professional woman in a male-dominated field. Although MIT has shifted to celebrate women in math and science during the past 30 years, stereotypes for women in the sciences still exist.
Truth Values is an ideal conversation starter about issues concerning women in math and science. That's why the show will be followed by a panel discussion with de Cari and Keene State math and gender studies department chairs Karen Stanish and Sara Hottinger and Dottie Morris, KSC's chief officer of Diversity and Multiculturalism.
This performance is funded in part by a grant from the KSC Campus Commission on Diversity and Multiculturalism.
Tickets range from $10 to $25 and can be purchased by calling the Box Office, 603-358-2168 or ordering online at www.keene.edu/racbp.
About Redfern Arts Center on Brickyard Pond 30th Anniversary
The Arts Center is named in honor of Dr. Leo F. Redfern, Keene State College President from 1969 to 1979 for his vision, commitment, and eloquence on behalf of the arts that made funding and construction of the facility a reality. In 1981, KSC inaugurated this new performing arts center, with the goal of providing unforgettable artistic encounters for the campus and community. Since then, the Redfern stage has hosted hundreds of amazing shows, from internationally renowned artists to emerging young talents to KSC's own student performers.
Over the years, the Redfern has expanded its outreach programs and community partnerships, becoming an indispensible resource for the Keene community and beyond. An exhibit celebrating the Art Center's 30th anniversary is currently on display in the Redfern lobby. The exhibit includes articles and photos of the ground breaking and construction of the Arts Center as well as posters and photographs of performances through the years by the Music, Theater and Dance, and Art departments. Visit www.keene.edu/racbp for more information on the season and to purchase tickets.
About Keene State College
Keene State College is a preeminent public liberal arts college that ensures student access to world-class academic programs. Integrating academics with real-world application and active community and civic engagement, Keene State College prepares graduates to meet society's challenges by thinking critically, acting creatively, and serving the greater good. To learn more about Keene State College, visit www.keene.edu.
Keene State College: Wisdom to make a difference.
Related Stories